OVERVIEW
FEATURES
SPECS
COMPARE
REVIEWS
SUPPORT
Free 2-3 Business-Day Delivery
LEARN MORE >
2-Year Warranty
You will enjoy a 2-year warranty period from the purchased date with any products here.
Free 2-3 Business-Day Delivery
Orders will be dispatched within 2 business days. The parcel will arrive at your address in 48 hours once shipping out.
30 Days Return & Refund
30-day return & refund window is available for you if you aren't satisfied with your purchase here for any reason.
Awards for OpenComm
2021 Reddot Award
2021 IF Design Award
2020 Good Design Award
Made For
Communication.
Open-Ear Design
All Day Comfort
With nothing inside or over your ears, open-ear design ensures the lightest of pressure to your ears during long-term wear, and avoids the pain of ear inflammation. With your ears open to ambient sound, you remain aware of what's going on in the environment around you, even whilst listening and talking on your headphones.
DSP Noise Cancelling
Boom Mic
DSP noise-cancelling boom microphone minimizes background noise and enhances selective listening. With only a 6cm distance to your mouth, it is positioned to capture and enhance everything you say.
Premium Sound Quality
Authentic Listening Experience
OpenComm is equipped with Qualcomm 3024 chips supporting more complex sounds and precise tuning. The sound quality is further boosted by 7th generation bone conduction technology that allows mid to high-range frequencies to be heard with total clarity, perfect for the human voice.
8 Hours Of Battery Life
Up To 16 Hours Of Talk Time
8 hours of battery life and 14 days standby time per charge. If you are using OpenComm as an input-only device (e.g. hosting a live streaming), it gives you up to 16 hours of talk time①.
5 Minutes Charging
2 Hours Of Talk Time
It only takes a mere 5 minutes charging to give OpenComm up to 2 hours of talk time, and 60 minutes to fully charge. Perfect in emergencies. Finally, you can get rid of low-battery anxiety when urgent issues arise.
NFC Pairing
Tap-And-Go
OpenComm is engineered with NFC (Near Field Communication) function, enabling you to pair any compatible device② just by bringing it closer. It substantially simplifies the cumbersome pairing process and requires less power than Bluetooth pairing.
Made With Titanium
Reliable And Durable
Built with a full titanium frame, OpenComm is the first and only headset in the world that features a titanium boom mic. With over 10,000 bend and shake tests, OpenComm stays in its original shape and stays put during all movements.
Different Job
Same Headset
OpenComm fulfills the needs of almost all occupations: driver, warehouse operator, offices or
working from home. With this revolutionary headset, a broader range of people will have access to
an unprecedented listening experience.
What's In The Box
OpenComm Wireless Stereo Bone Conduction Headset
Magnetic Induction Charger
Hard Shell Carrying Case
SPECS
IP55 Sweatproof
Repels dust, sweat,
and moisture for added durability
Bluetooth 5.1
Strong, reliable connectivity
up to 33 feet
Battery
Battery Life
16 Hours of Talk Time
Standby Time
Up to 14 Days
Charging Port
Magnetic Induction
Maximum Charging Voltage
5.25 V
Connectivity
Bluetooth Versions
Bluetooth V5.1
Compatible Profiles
A2DP, AVRCP, HSP, HFP
Design
Sweat & Water Resistant
IP55 Sweatproof
Command Controls
Multifunction button, Volume button
Sound
Frequency Response
20Hz~20KHz
Microphone
Microphone Type
DSP Noise-Canceling Boom Mic
Microphone Sensitivity
-38dB ± 3dB
SHOW FULL SPECS >
Find The Right Headphone For You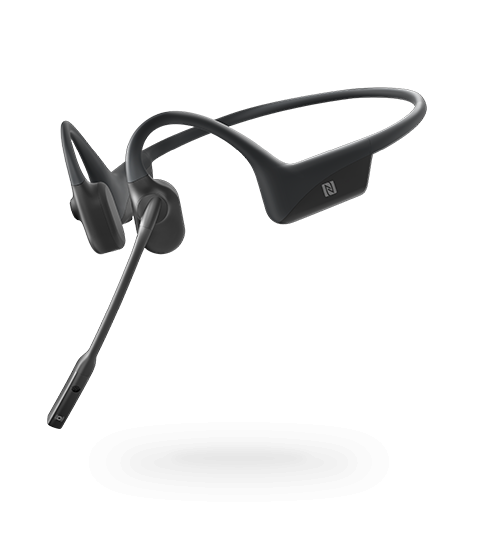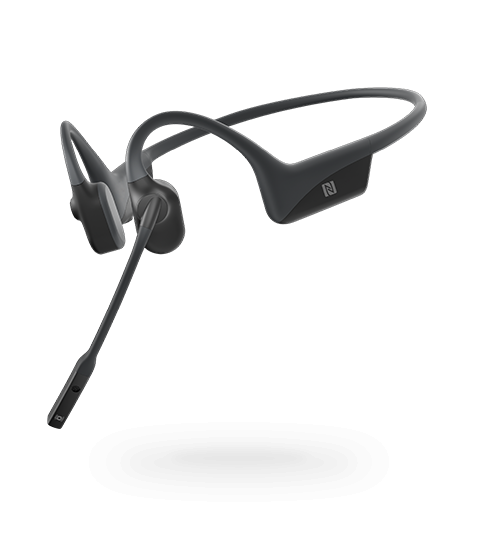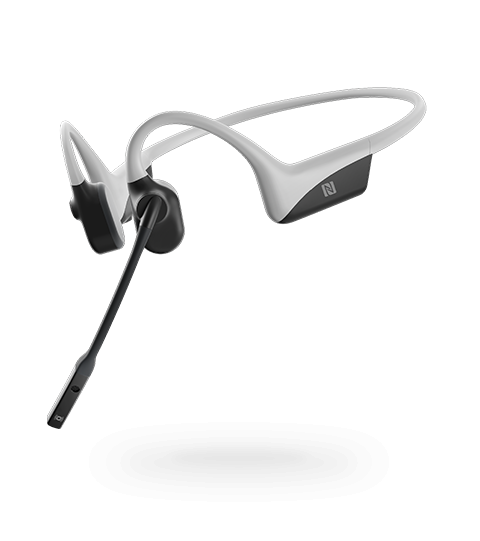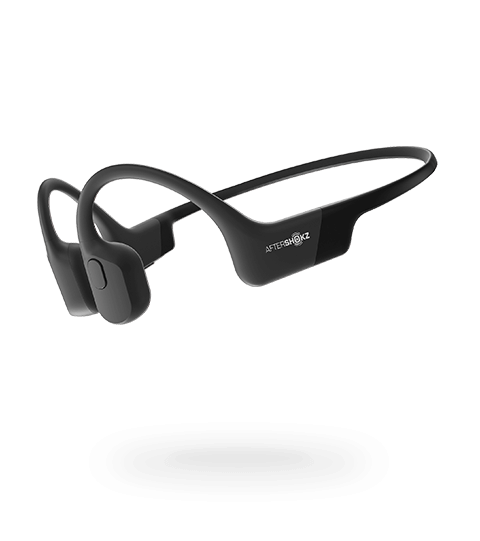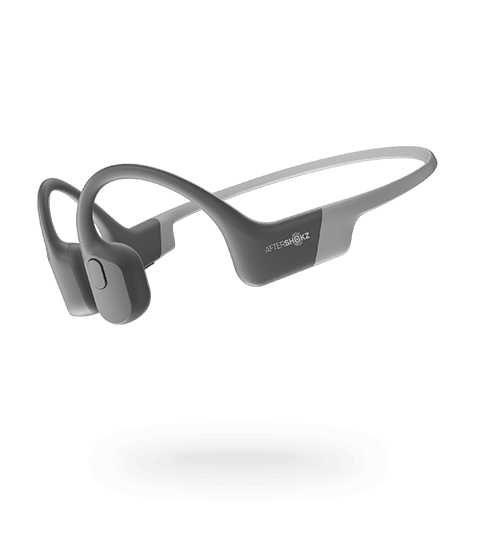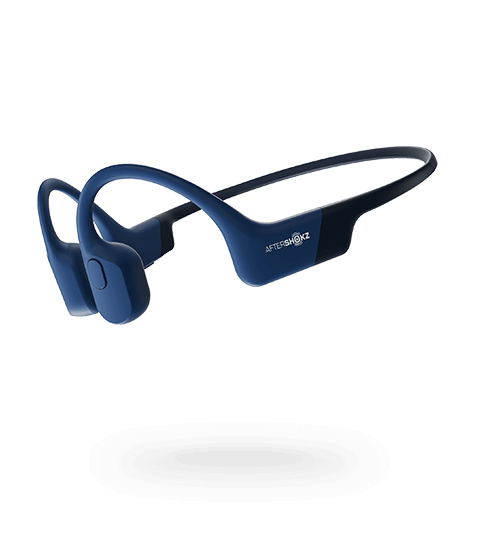 Bluetooth
Bluetooth 5.1
Bluetooth 5.0
Battery Life
16 Hours of Talk Time
8 Hours
Water Resistance
IP55
Sweatproof, against splashing water
IP67
COMPARE ALL >
Expert Reviews
"AfterShokz OpenComm come into their own for those that need to hear digital audio for long periods without discomfort and need a microphone to communicate freely. They're significantly nicer to wear for a prolonged session and almost entirely devoid of the soreness that in-ear designs and cans can generate."
This Aftershokz headset really is the ultimate Bluetooth integrated headphones and mic set for working from home - especially if you have to keep an ear out for the kids or the front door while you're on a call or listening in. They're honestly so light and comfortable that chances are you'll forget you're wearing them!
They're great for speech so they work very well as a headset for making calls, with good noise reduction. These also have multipoint-Bluetooth pairing, so you can pair them with your phone and PC and easily switch to your phone if a call comes in while you're on your computer.
So far so good
Got my headset for Christmas and I use it with my work computer via Bluetooth. Good quality for business calls, break audio cancellation, easy to use, reliable, lasts a long time and is very comfortable. I will definitely recommend AfterShokz
Bluetooth connection problems
Hi! my aftershokz opencomm can no longer be connected to the phone. I tried several phones and they are not visible via Bluetooth, it can't find them. the first time they were connected to my Samsung phone, I disconnected them from the phone, and then they didn't work anymore, it didn't identify them via Bluetooth.
what to do? thanks!
My Third pair - They are good
I had two pairs of Air (left a pair somewhere). Use the Air for at home, mainly listening music etc in bed, and for work I have a pair of Opencomm. Cannot fault them in any way. 10/10
Perfect lightweight home office headset
As someone who does a large number of calls per day, this headset is exactly what I have needed!! I've been searching for a good quality wireless headset that didn't rope me to the desk for some time, and most of the previous ones I'd tried gave such poor sound quality it was remarkable they were sold with microphones at all - they literally weren't fit for purpose. Listening was fine, but listening and talking usually ended up with crackling and missed words. Previously I'd settled on a large and ugly gaming headset with a dedicated base station that didn't give the most professional look, and wasn't going to be easy to travel with when travelling becomes a reasonable option again.
By contrast, the OpenComm has great quality sound and the mic works fantastically, plus it's slimline - barely visible with a lovely Britney style mic, it pairs with my phone and mac with no problems at all, and it's really easy to charge with the nice magnetic charge cable, which works for my Aeropex headset too. It's small and easy to travel with to the office, another bonus. The only caveat is - if you're in a noisy space you'll need something to cover your ears to prevent sound coming in (like maybe earplugs or an over-ear headset that's switched off). So it works great for me in a private home office, but I'll need to find private spaces at work if I want to use this headset for calls.
Brilliant for a day of calls
I comfortably wear these for a full working day, full of teams calls. Audio and mic are great, as is the battery life. Bought from Amazon but so chuffed after several months, I thought it worth leaving a review here.
FAQ
Q: Can I remove the boom microphone from OpenComm?
A: The OpenComm is an integrated one-in-all design, the boom microphone is unable to remove. You can rotate it up when it's free.
Q: How to connect the OpenComm with my devices?
A: OpenComm can connect to most Bluetooth devices like phones/laptops/computers via Bluetooth connection. For a mobile phone with Android, it can be quick connected via NFC. Steps can be found
here
.
Q: How many devices can I connect with OpenComm at the same time?
A: OpenComm supports 2 devices at the same time via multipoint pairing. Steps can be found
here
.
Q: How long does it take to charge the OpenComm?
A: OpenComm takes 1 hour to charge from 0 to 100%. The included magnetic charging cable for quick charging in 5-minute can achieve 2-hour of talk time.
READ MORE >
Manuals/Guides
English >
① These numbers are given by electronic engineers who conducted tests under controlled laboratory conditions. Battery life depends on multiple factors including device settings, environment, usage, etc.
Testing conducted by Shokz using OpenComm produced in September 2020 paired with iPhone X (iOS 13.7). The test environment temperature was 25℃ with 320-kbps MP3 white noise played at a volume set to around 68% of the maximum volume (The A-weighted sound pressure level was 66.7±1.0dBA, measured 10mm from the face of the transducers with the headset hung in the air).
Testing consisted of full OpenComm battery discharge while playing audio until the headset stopped playback. The duration time is counted as the listening time of the headset. The test result shows that the OpenComm has a listening time of up to 8 hours.
Testing consisted of full OpenComm battery discharge while the test person spoke at a normal volume (the sound pressure level was 90dBA, measured 10cm from the mouth) for a certain period of time and the speakers were not working. The average power consumption of the headset was measured by the DC power analyzer. Based on the calculation between average power consumption and battery capacity, OpenComm has a talk time of up to 16 hours.
Testing consisted of full OpenComm battery discharge while OpenComm was powered on without any operation. The average power consumption of the headset was measured by the DC power analyzer. Based on the calculation between average power consumption and battery capacity, OpenComm has a standby time of up to 14 days.
In actual use, battery life depends on device settings, environment, usage, and many other factors.
② Only available if the connected devices also have NFC functionality