OVERVIEW
FEATURES
SPECS
COMPARE
REVIEWS
SUPPORT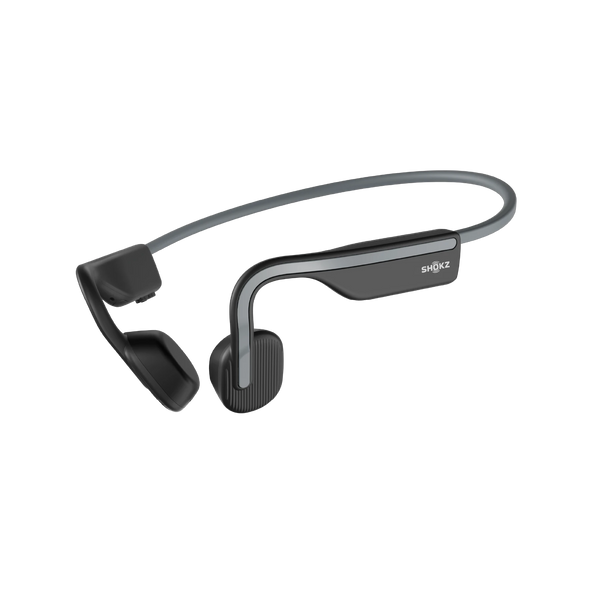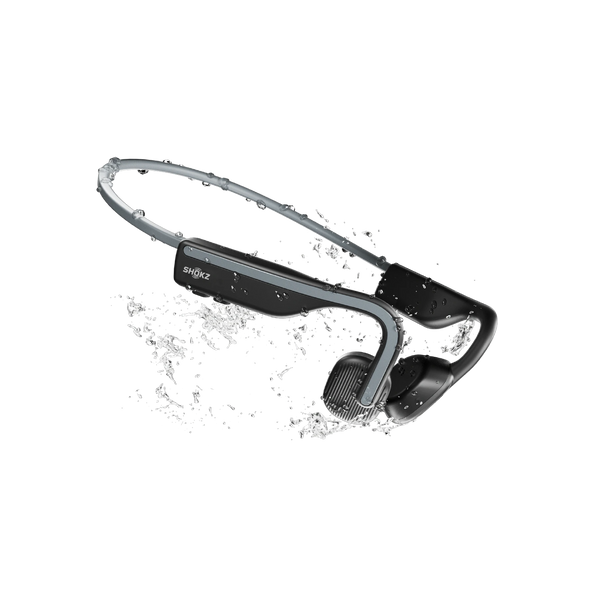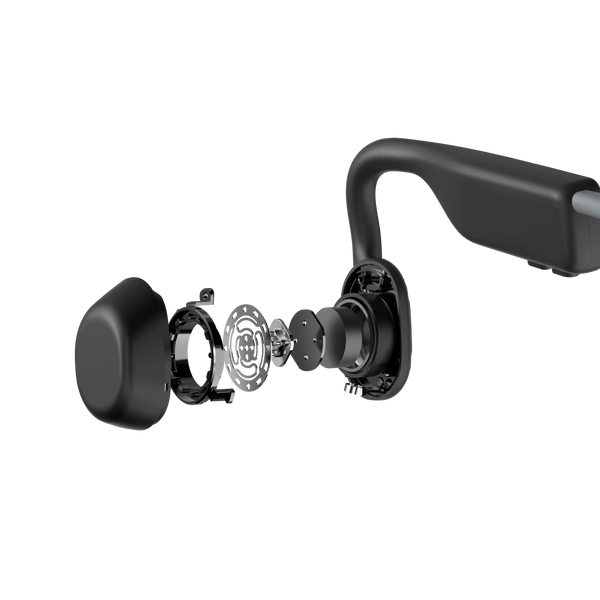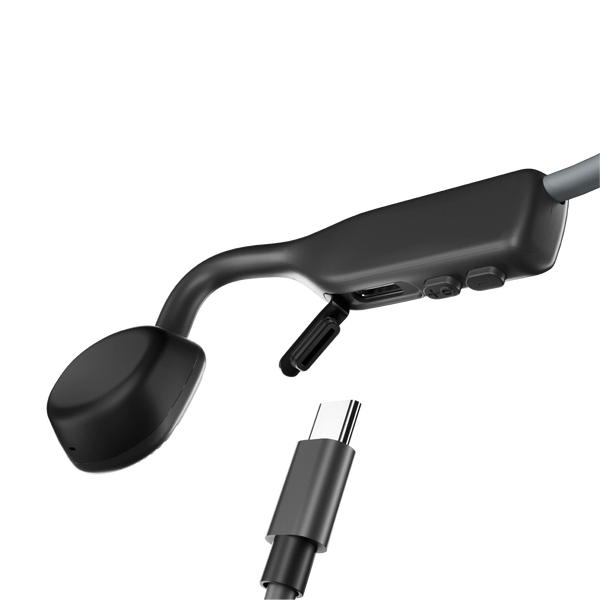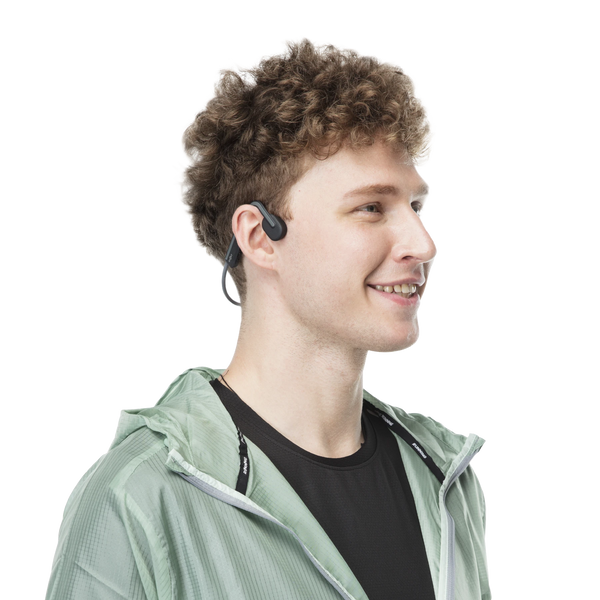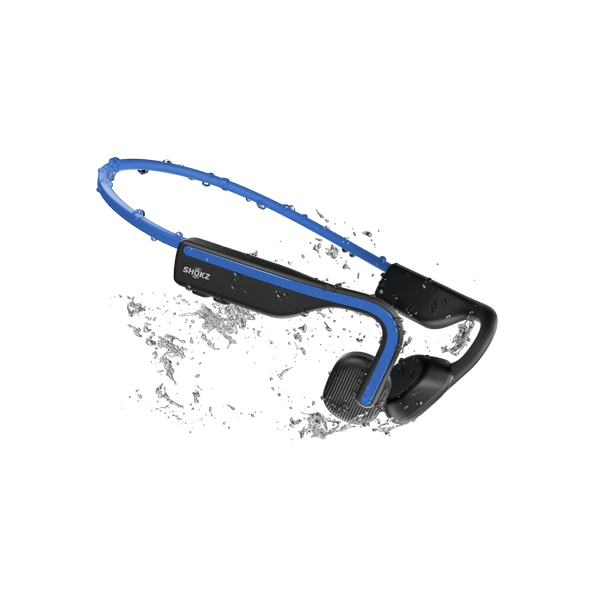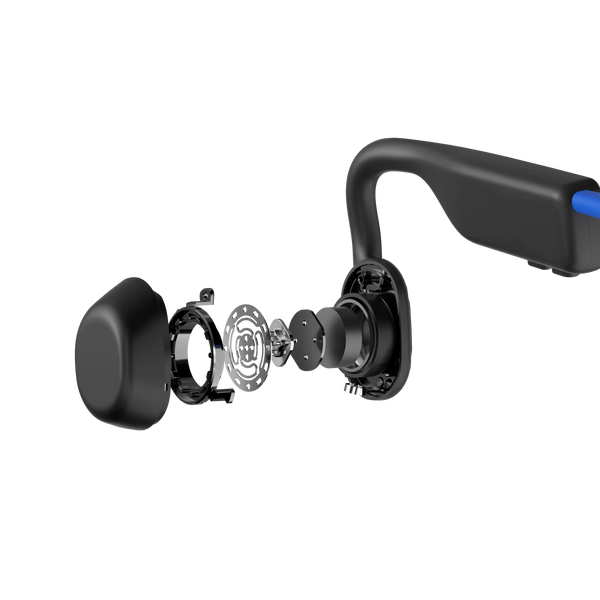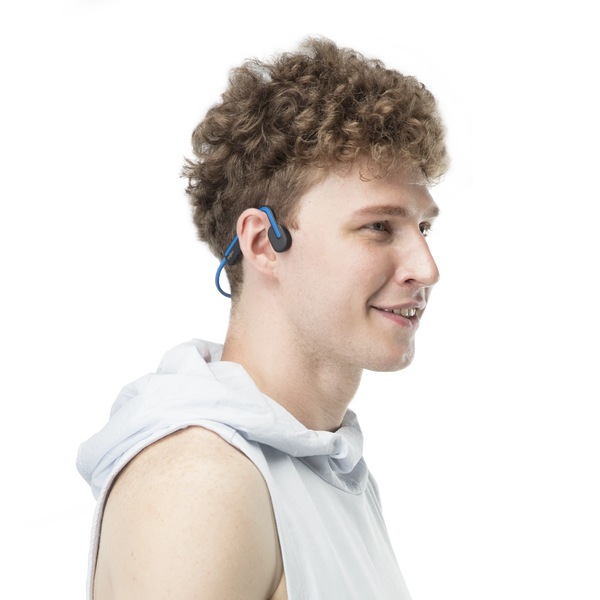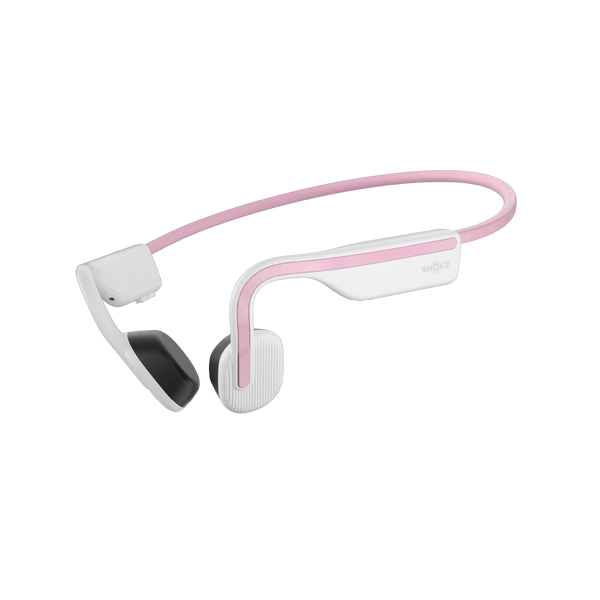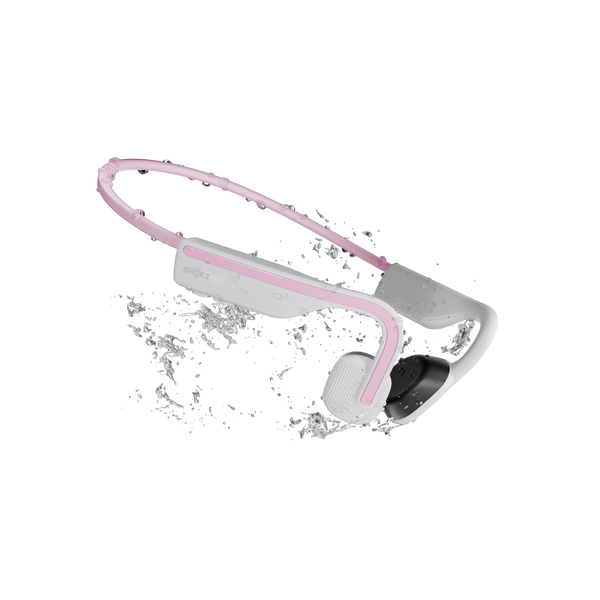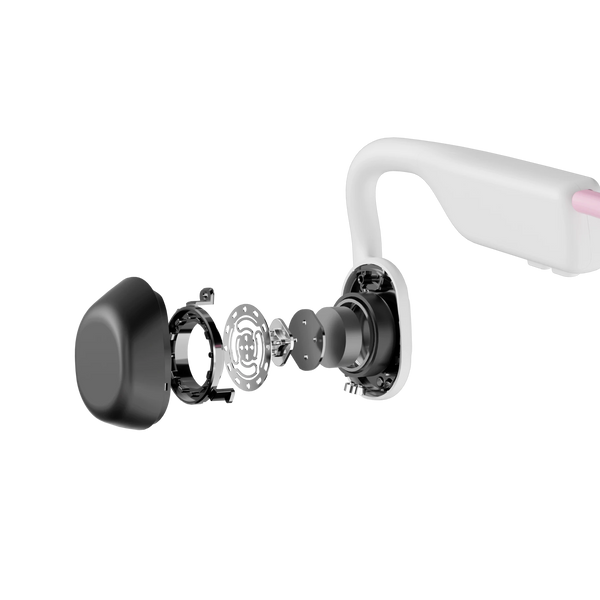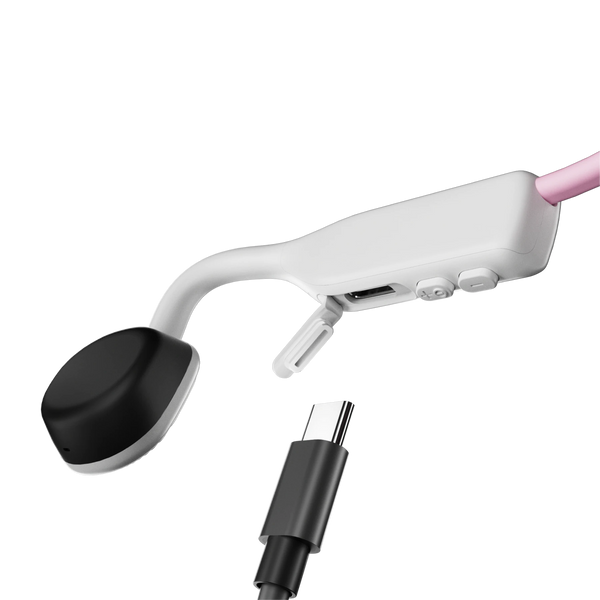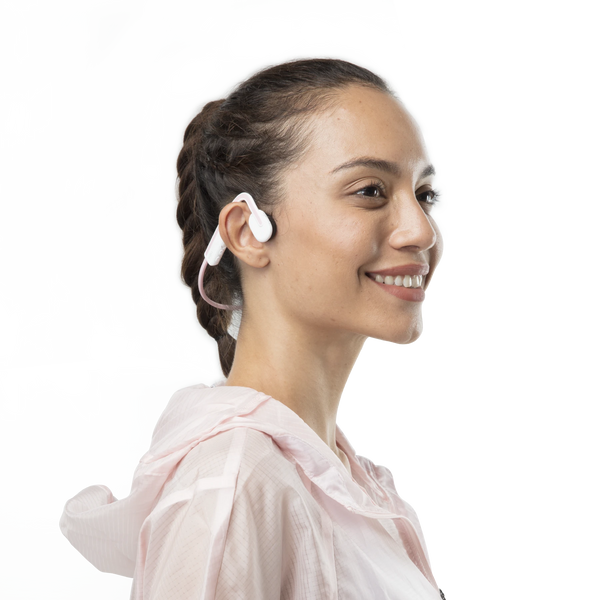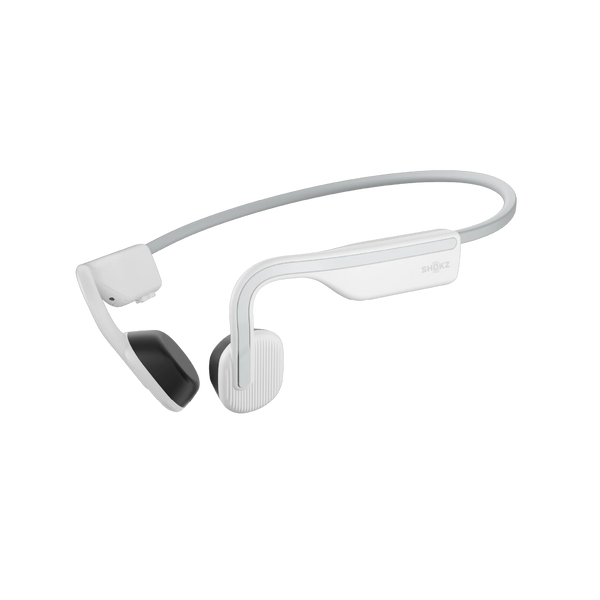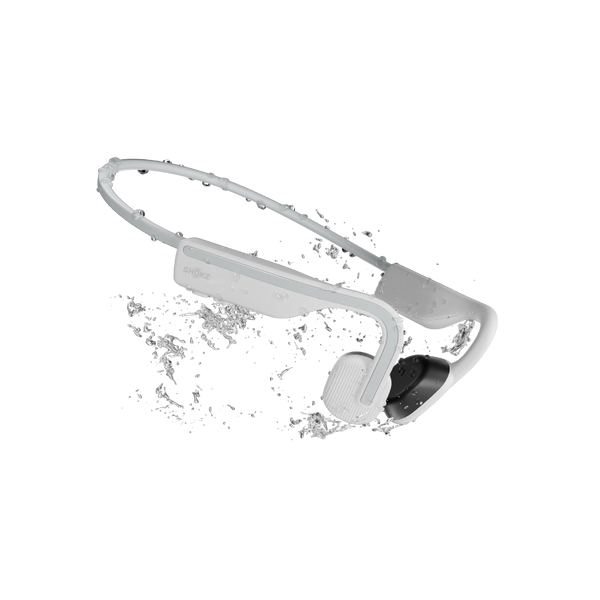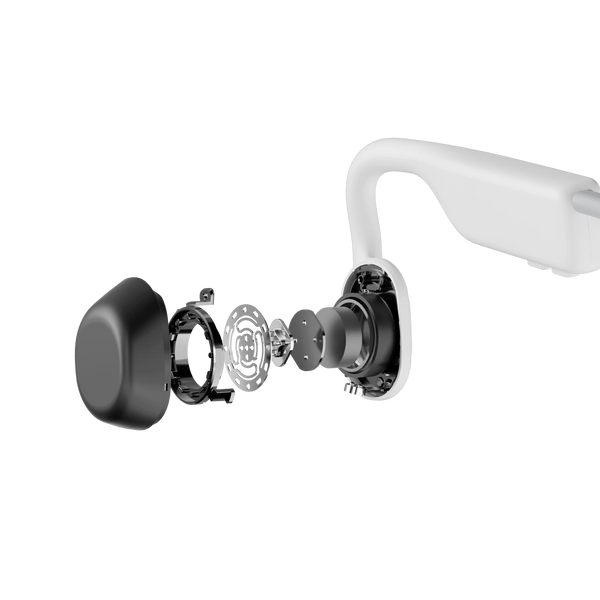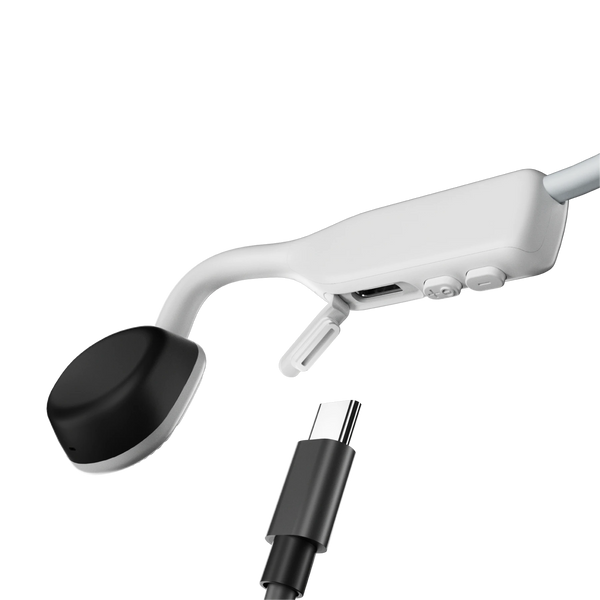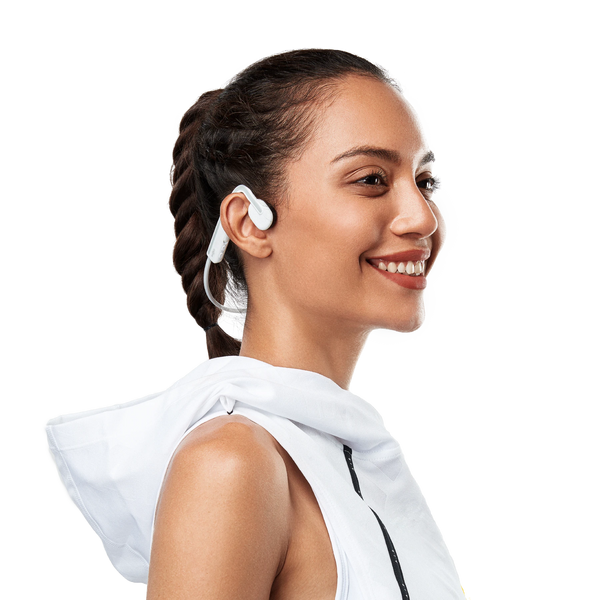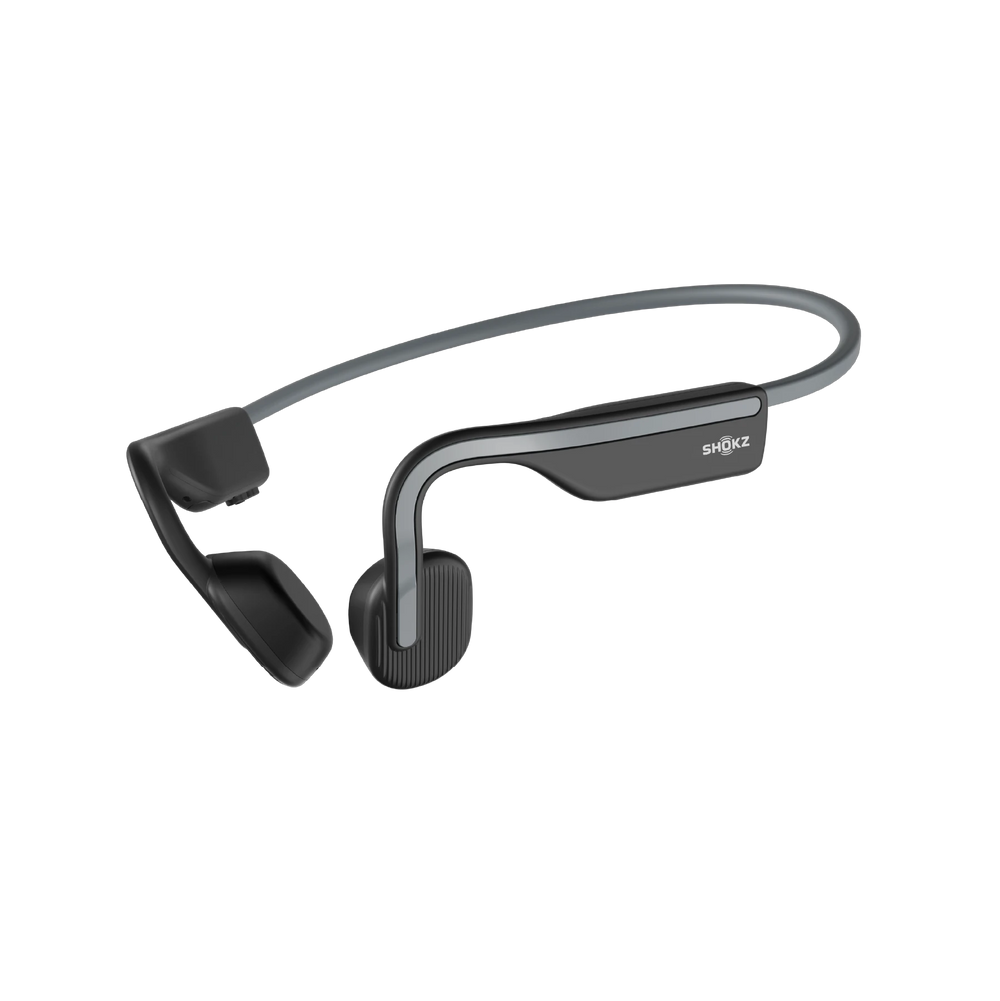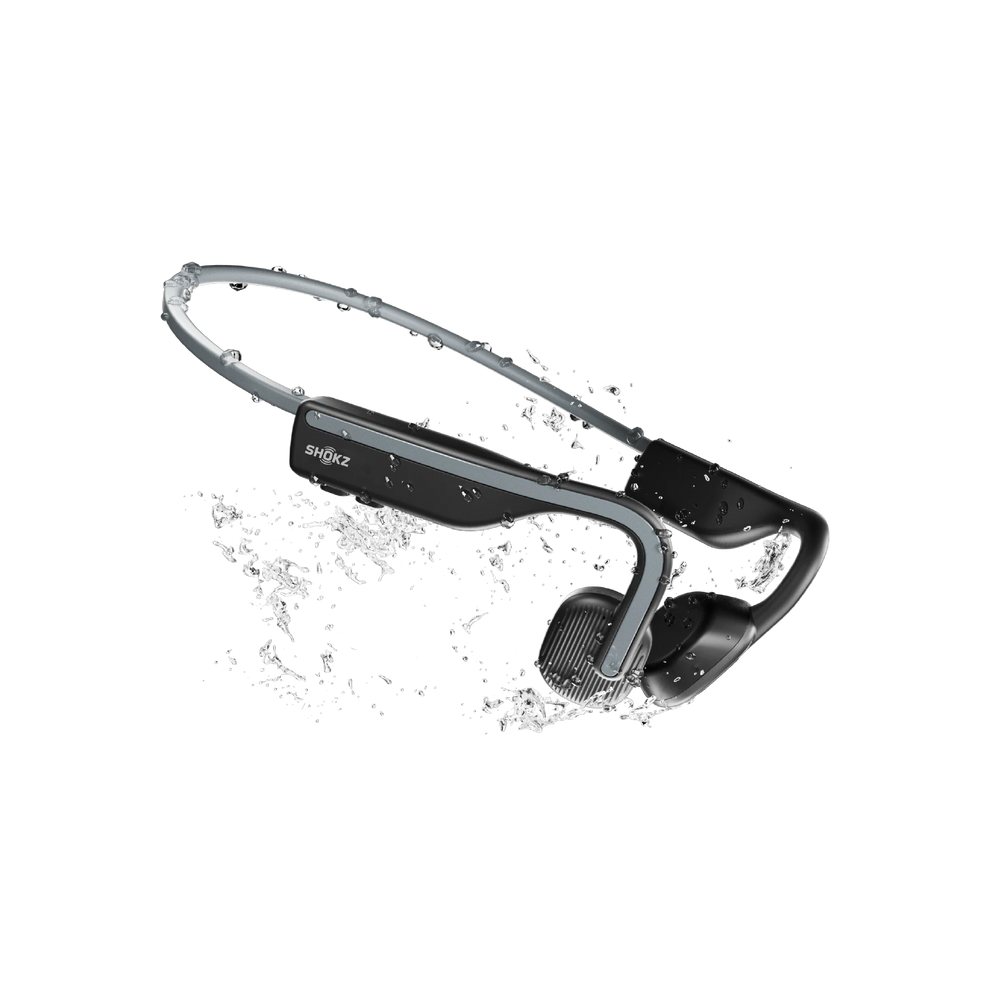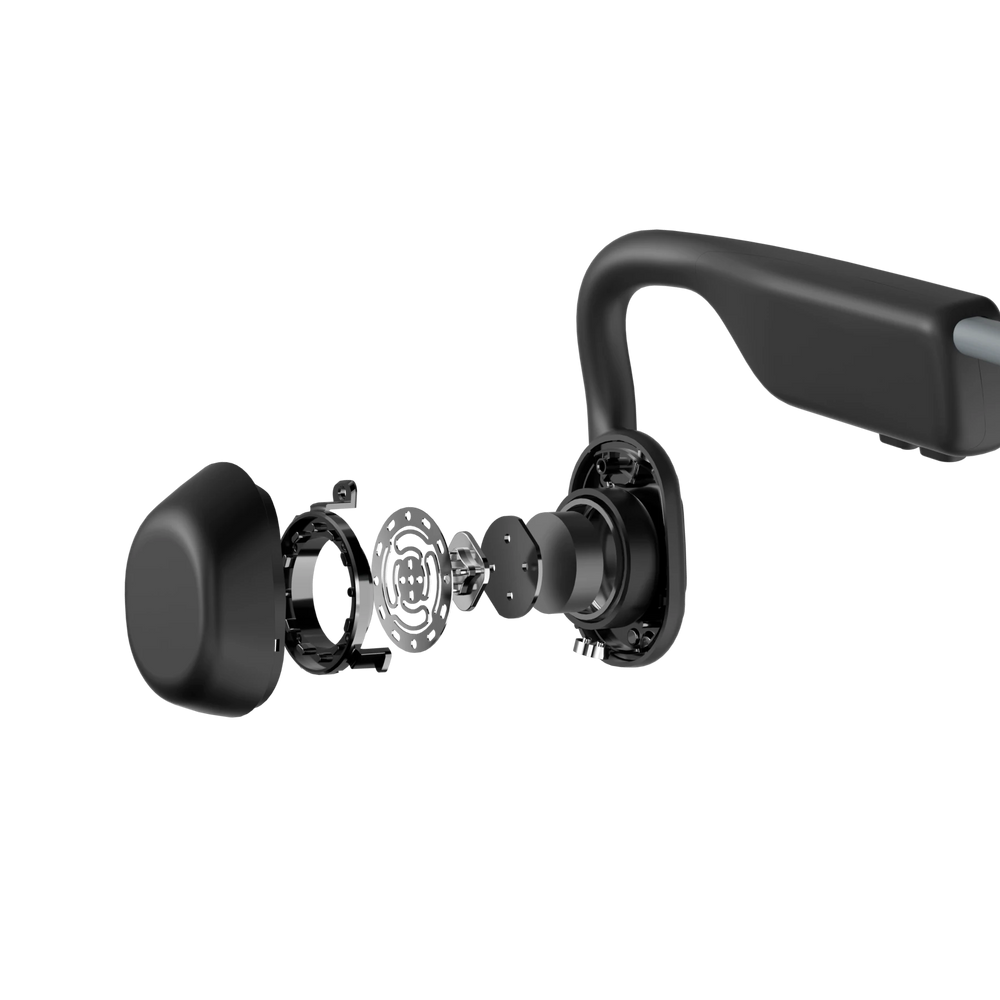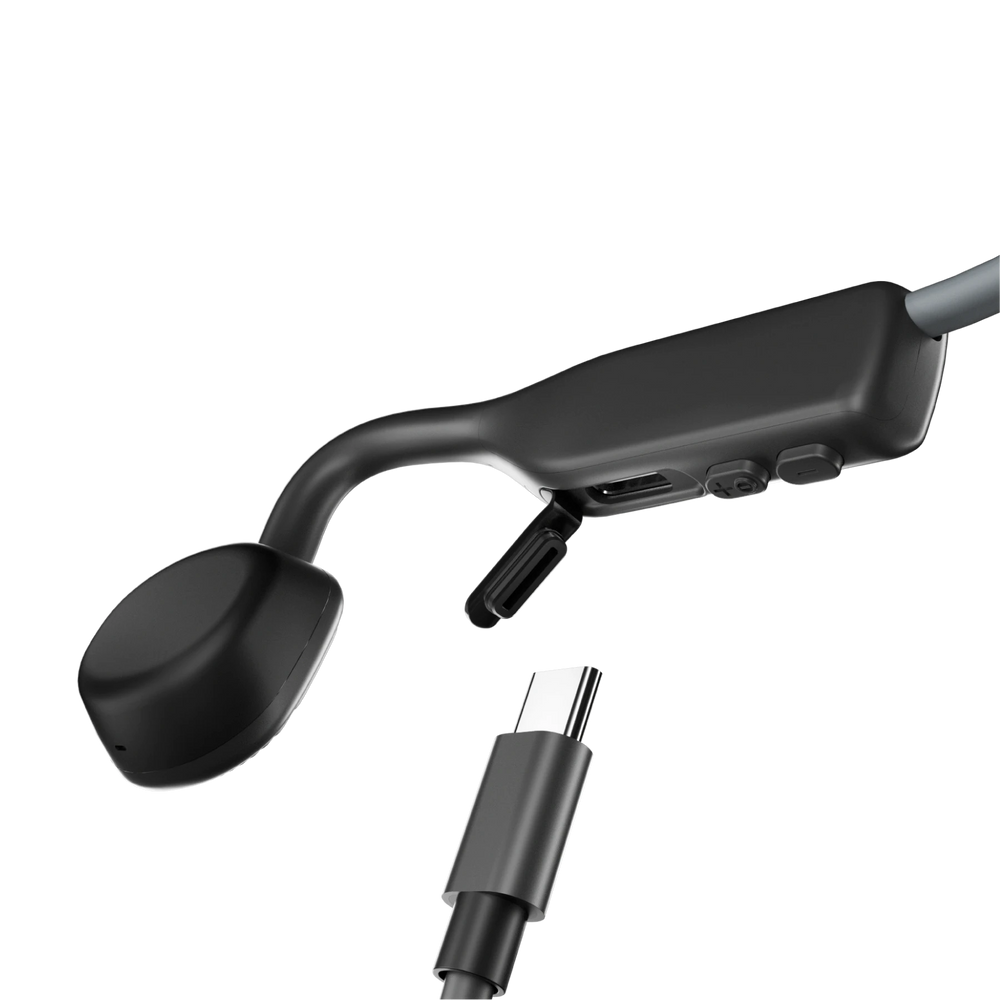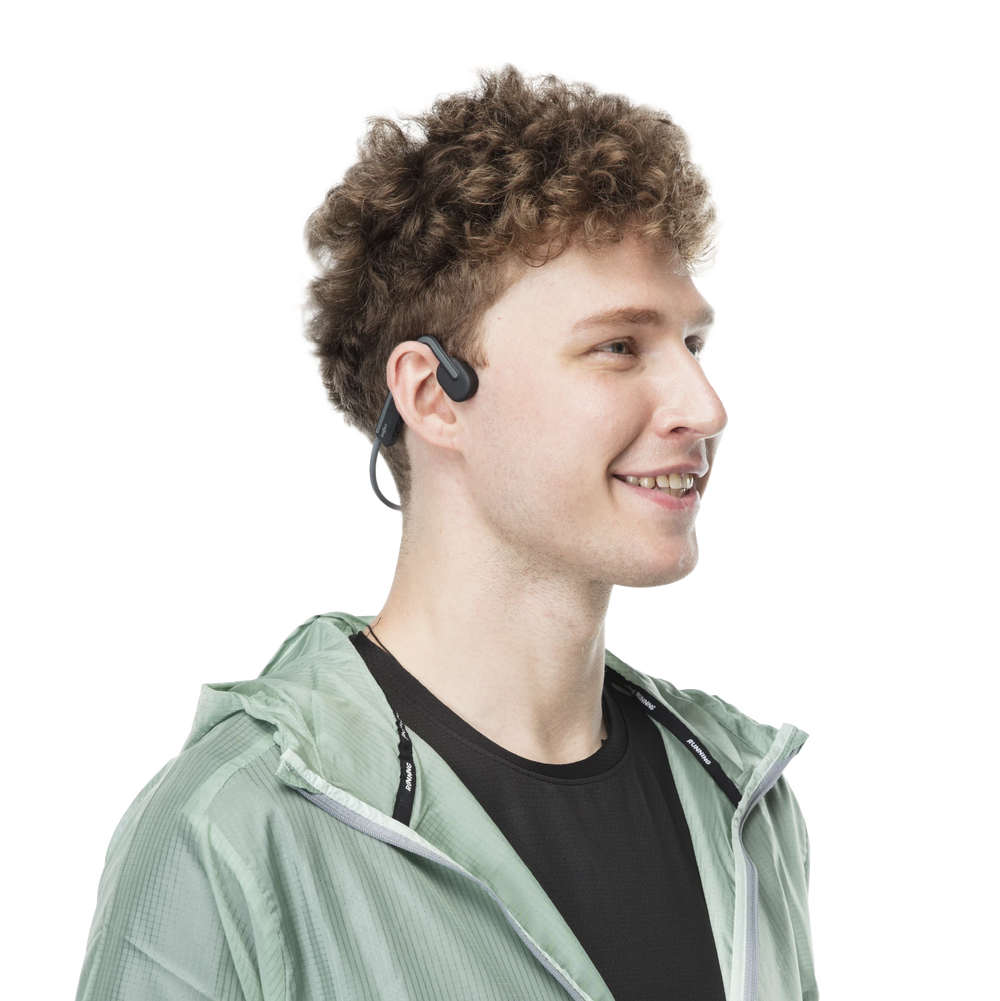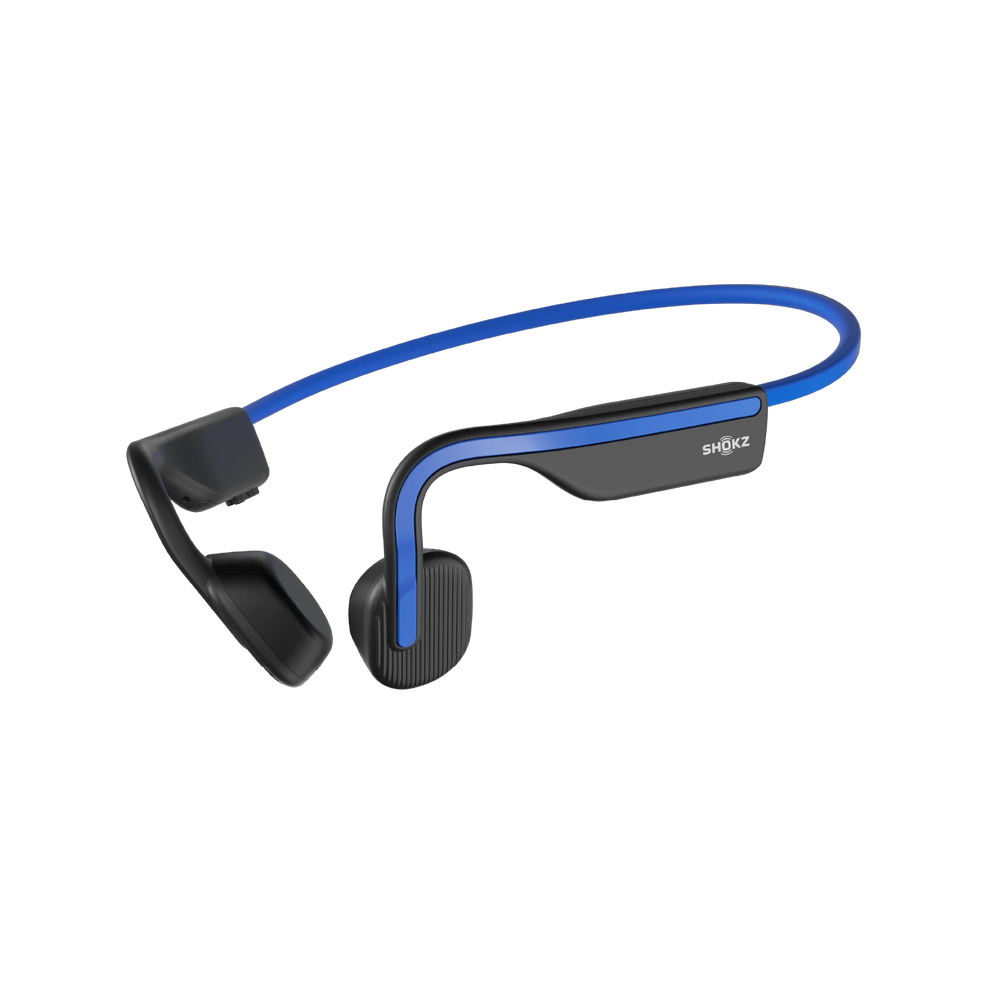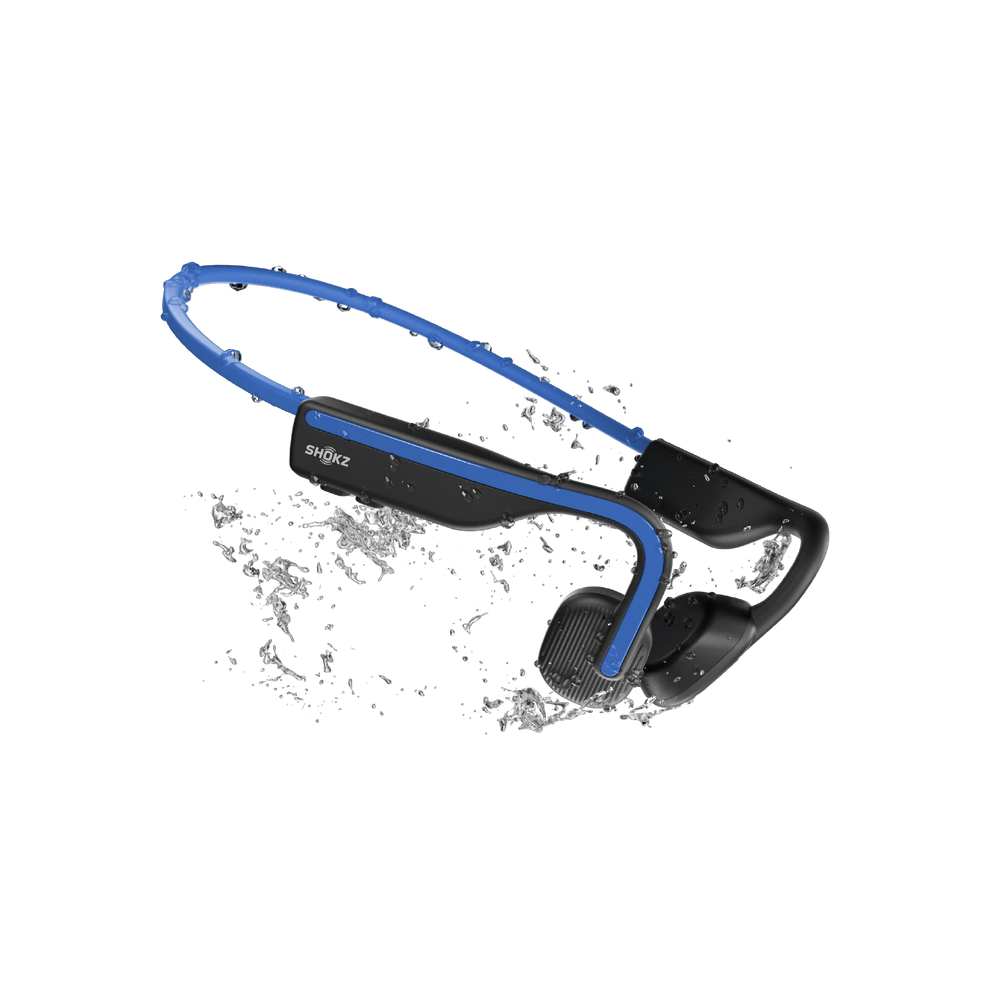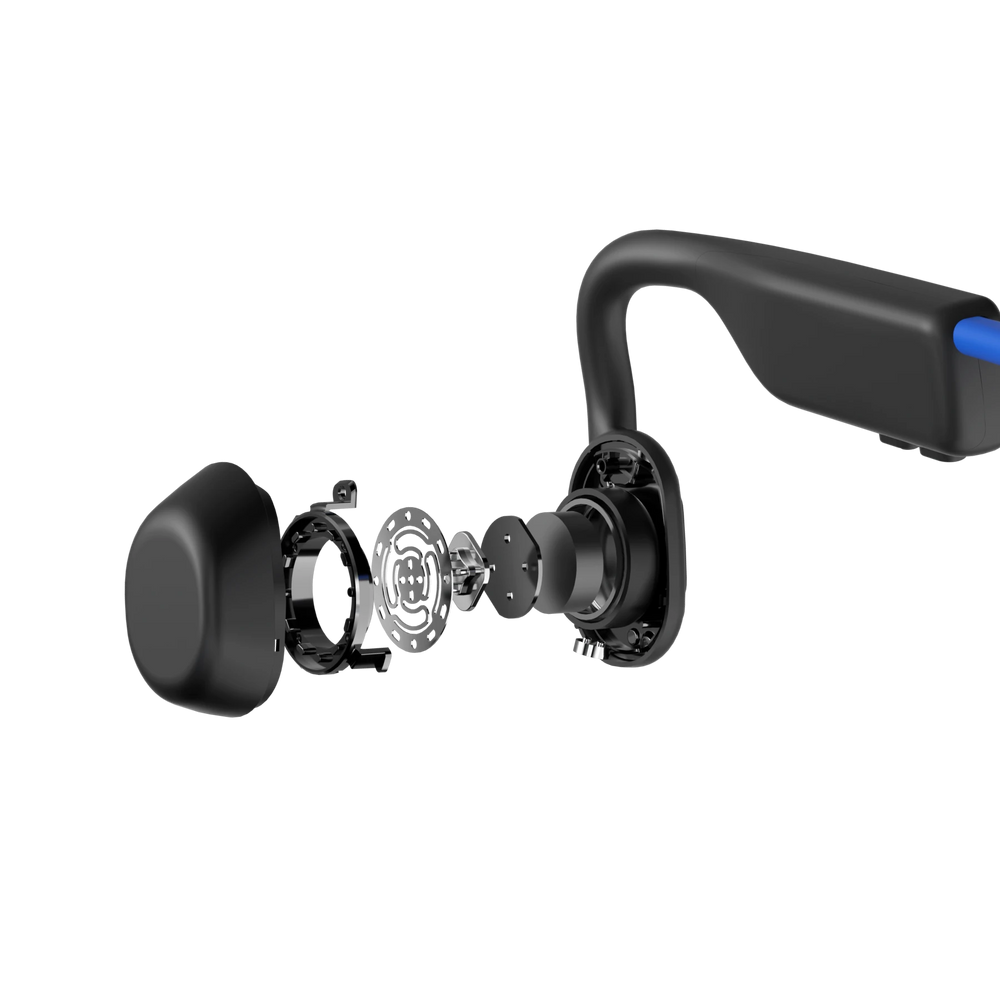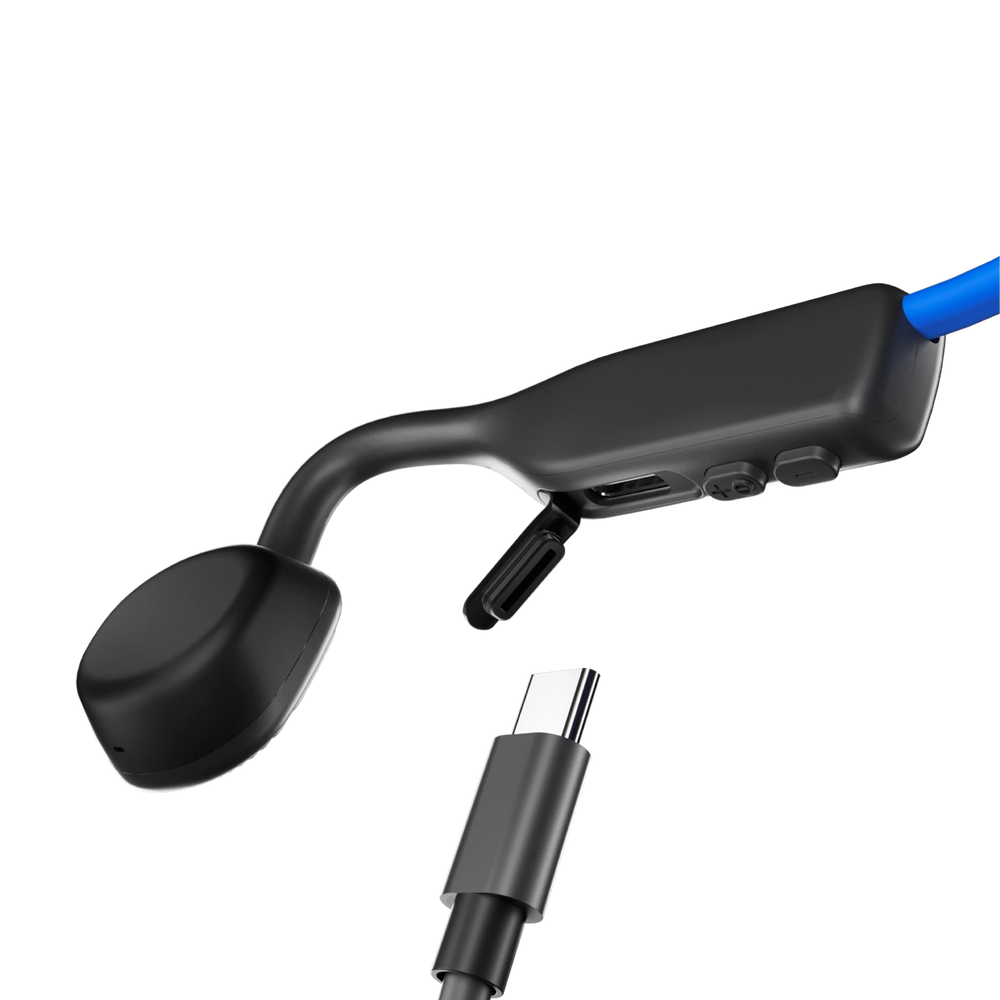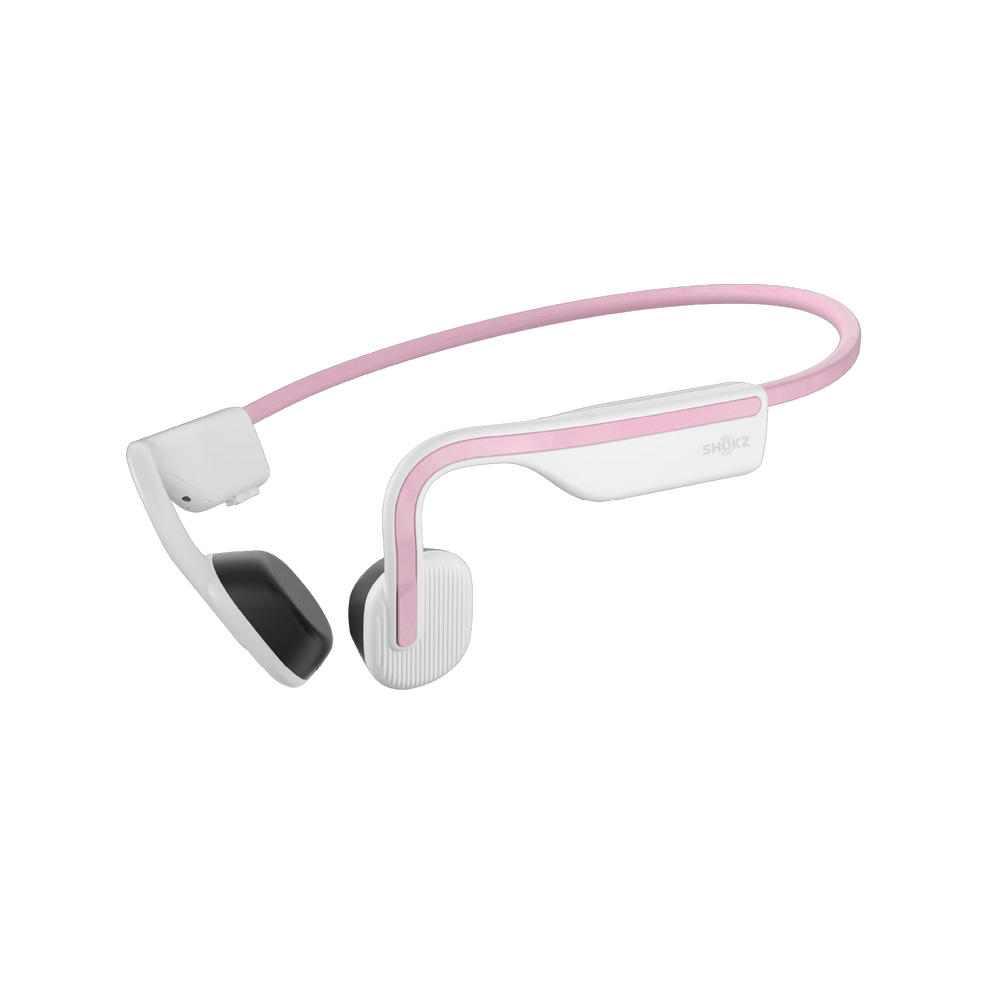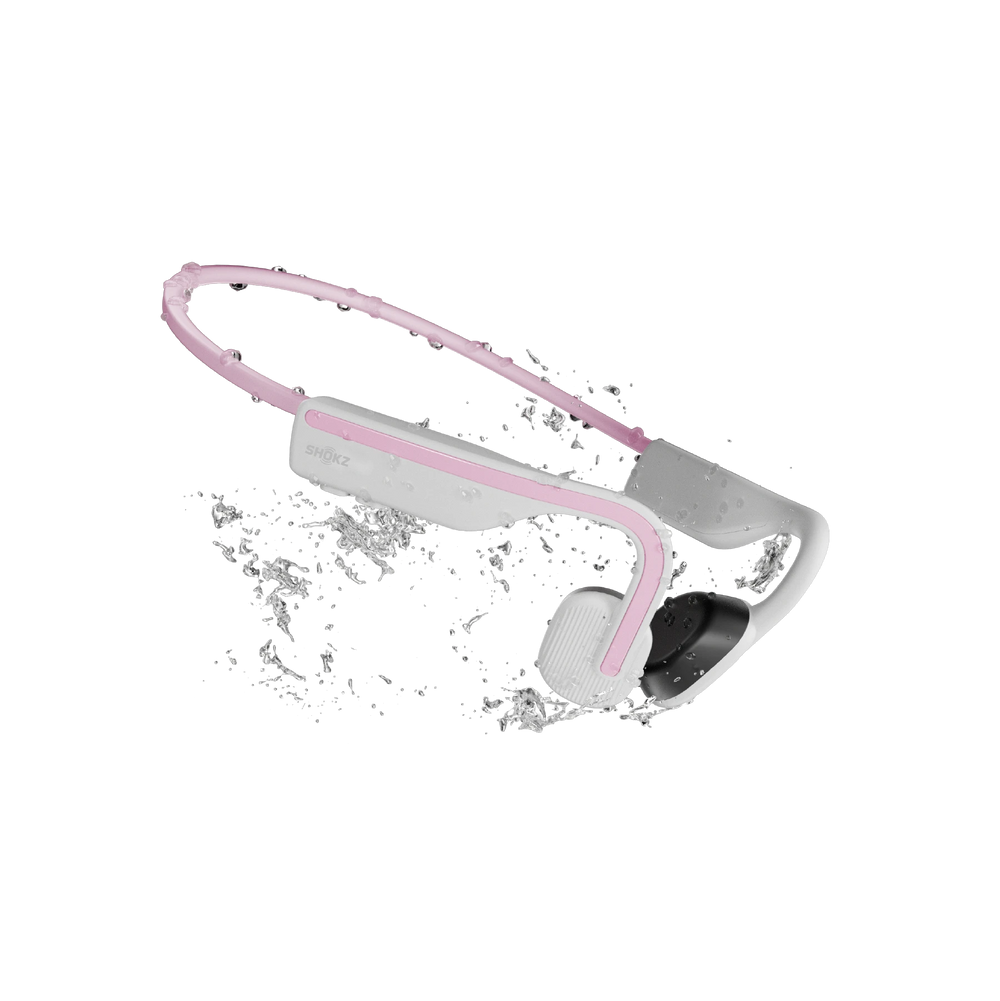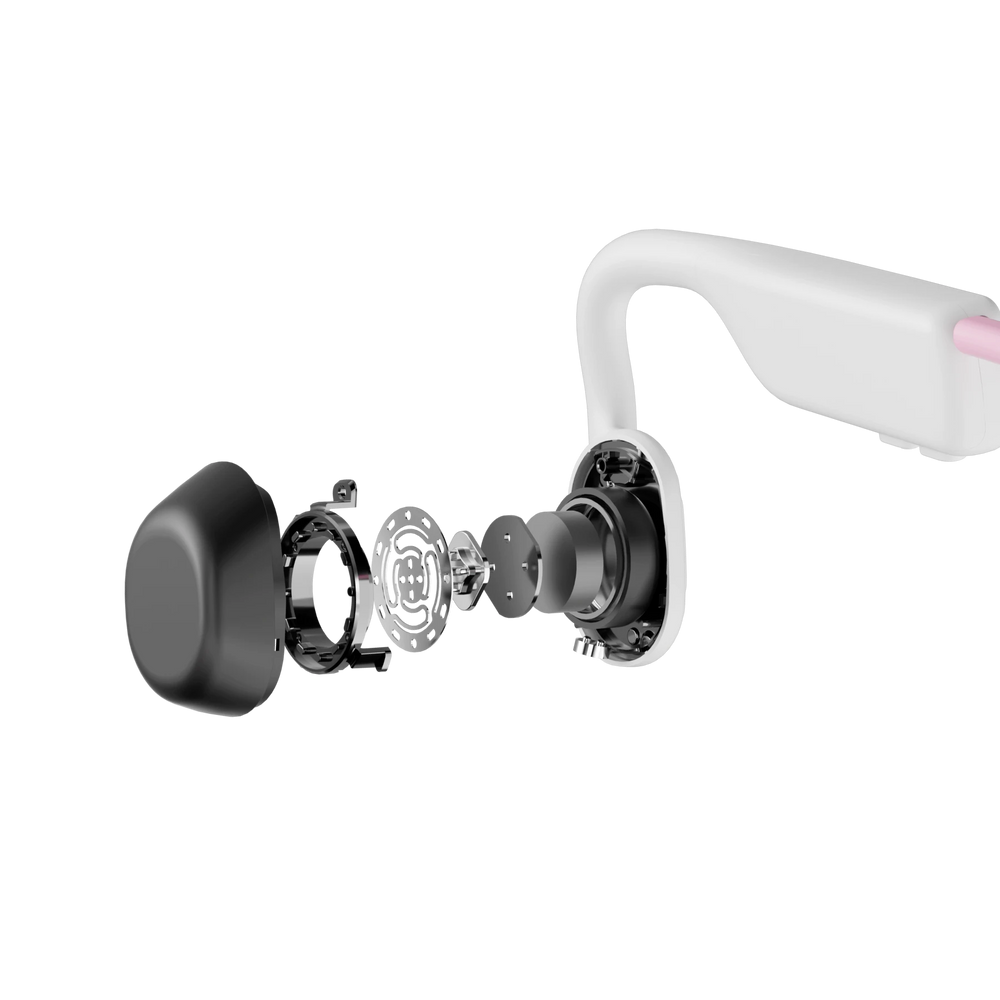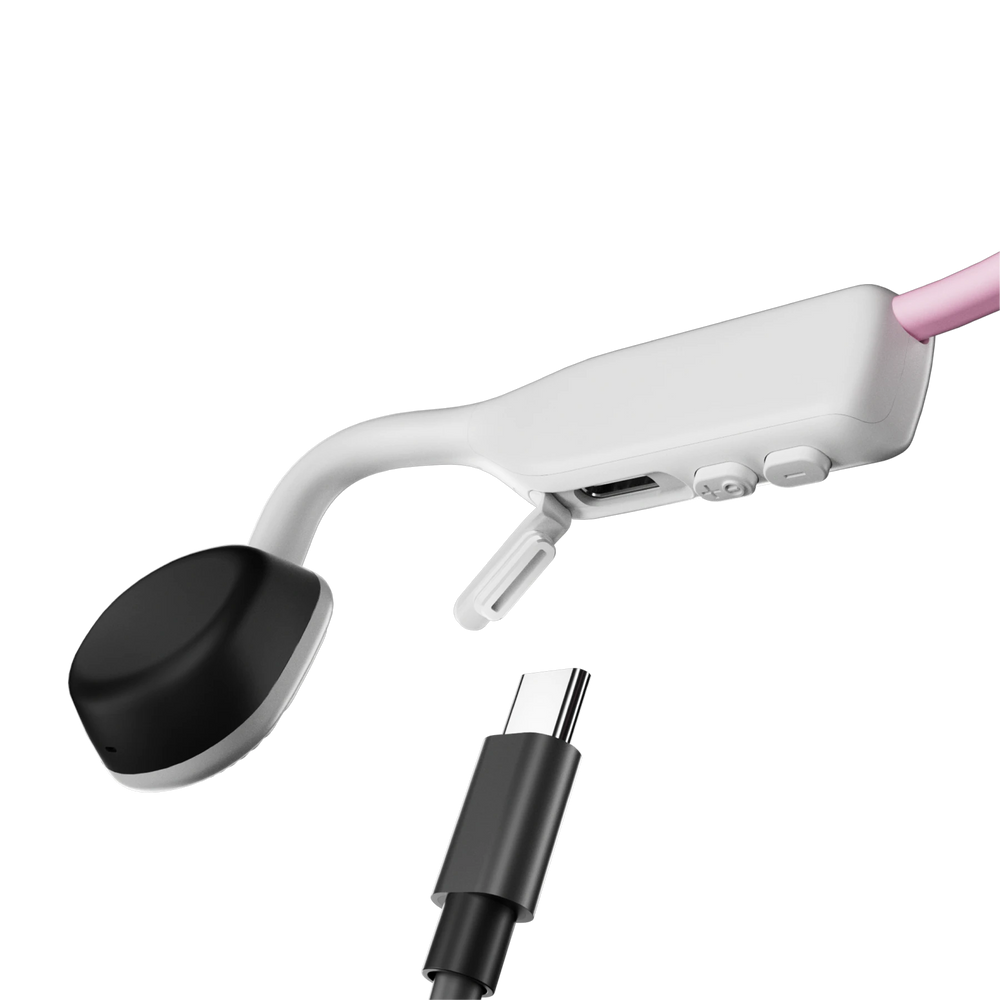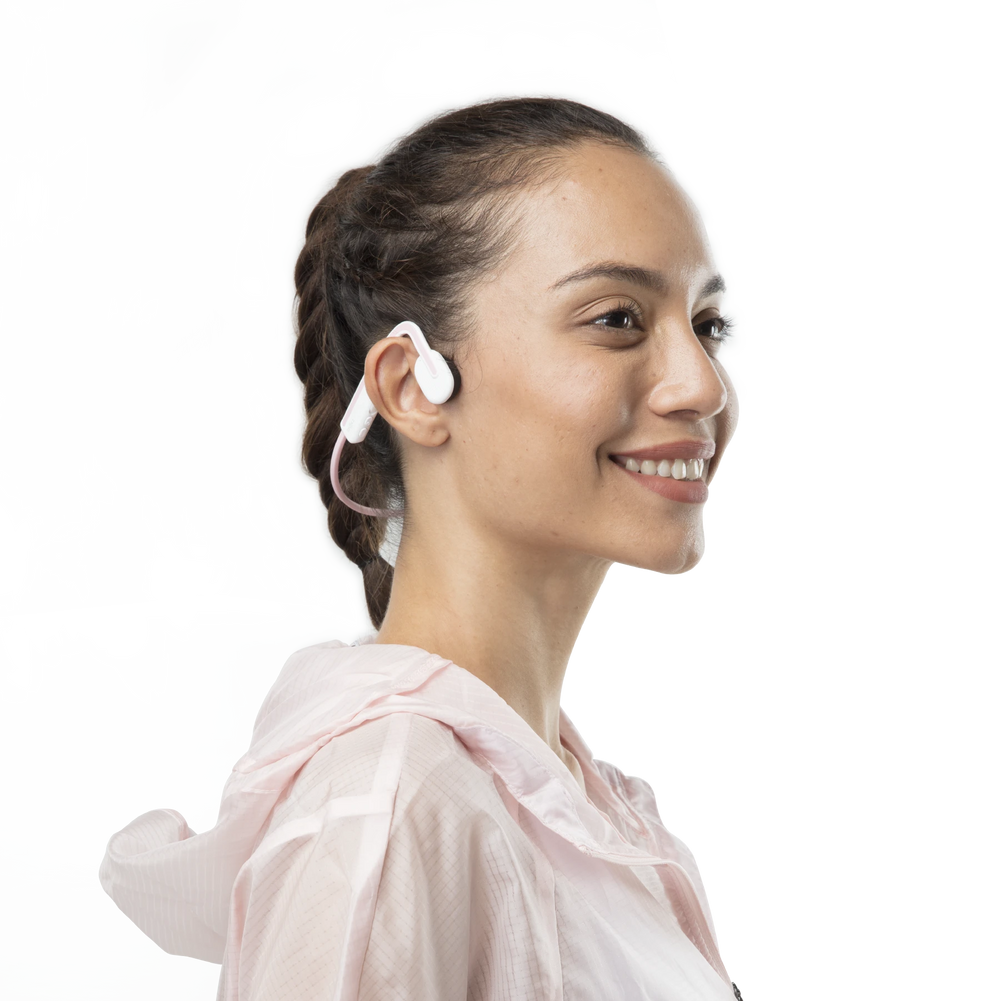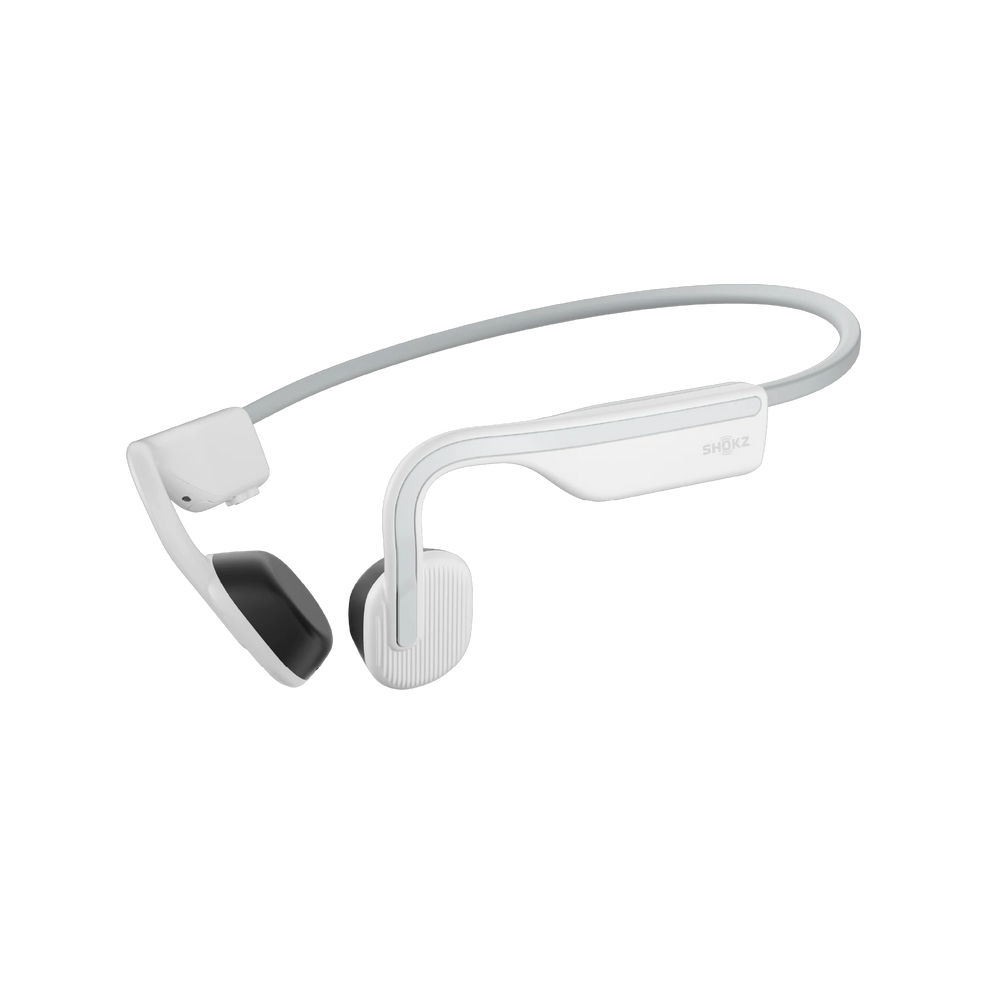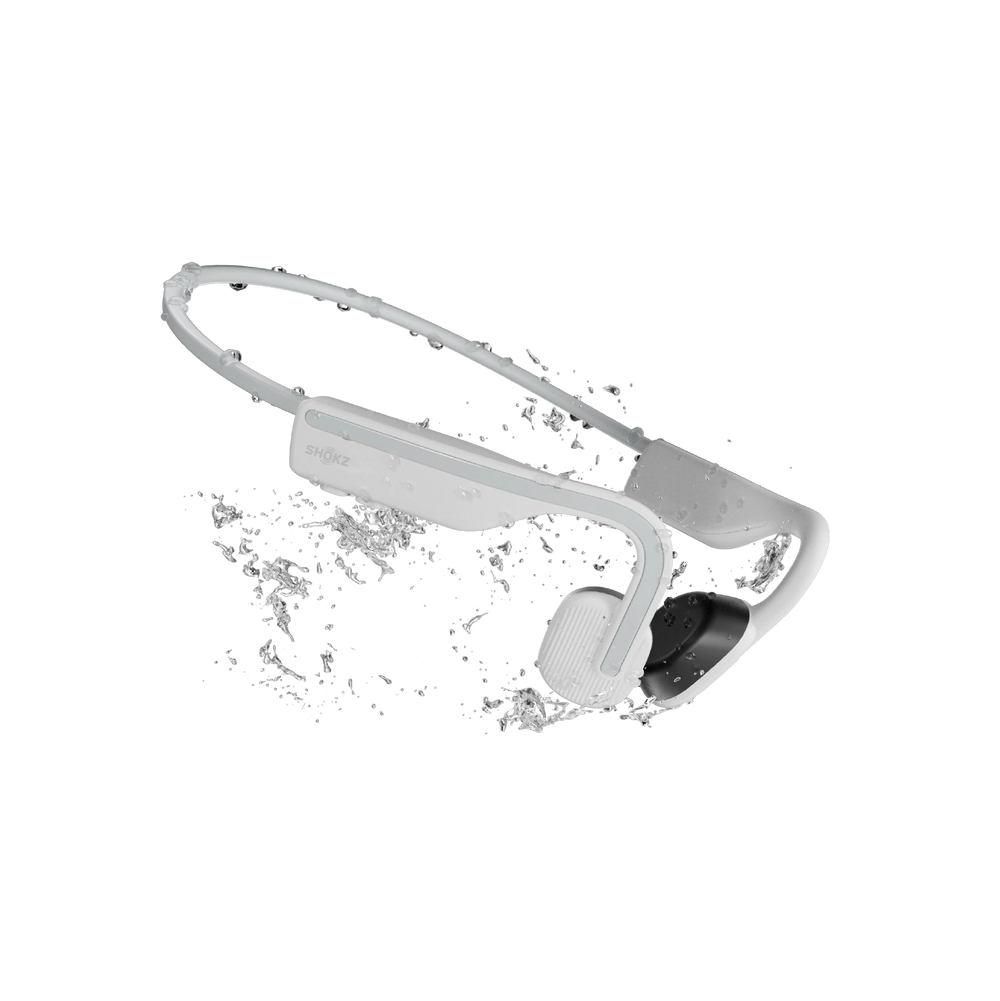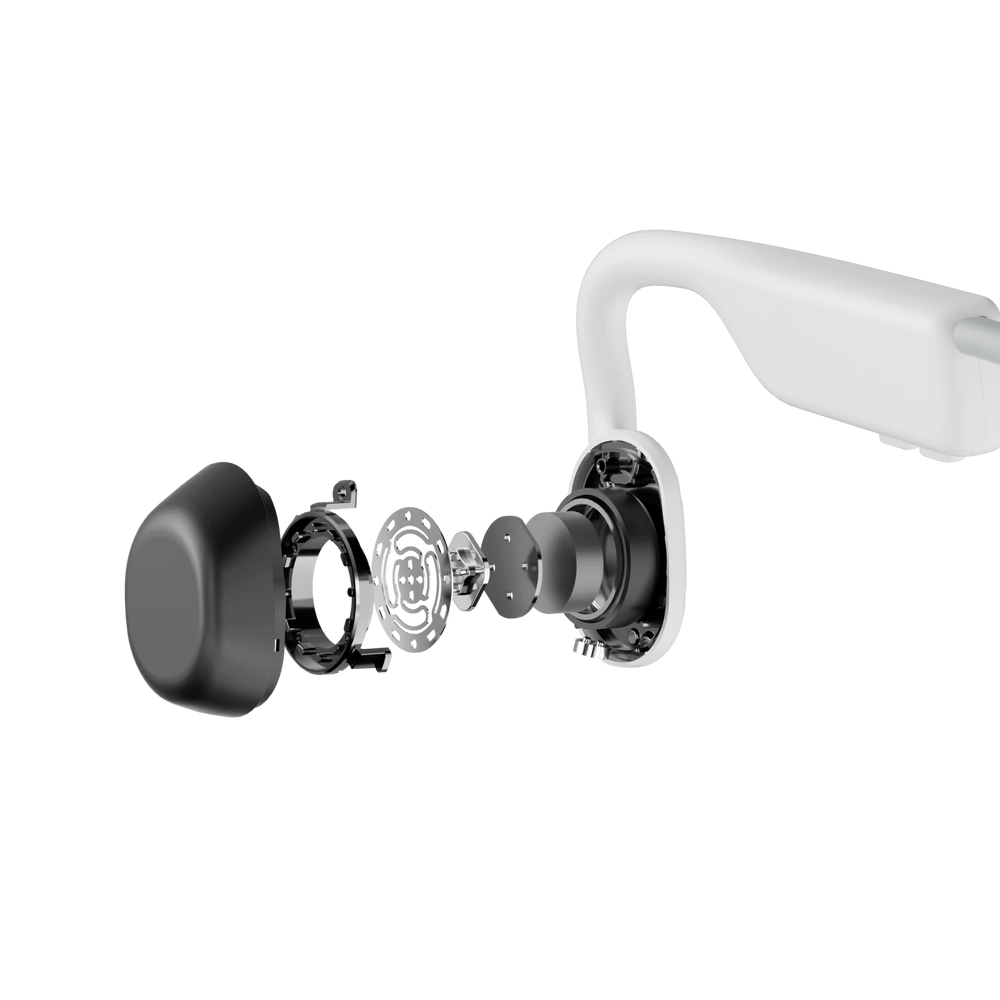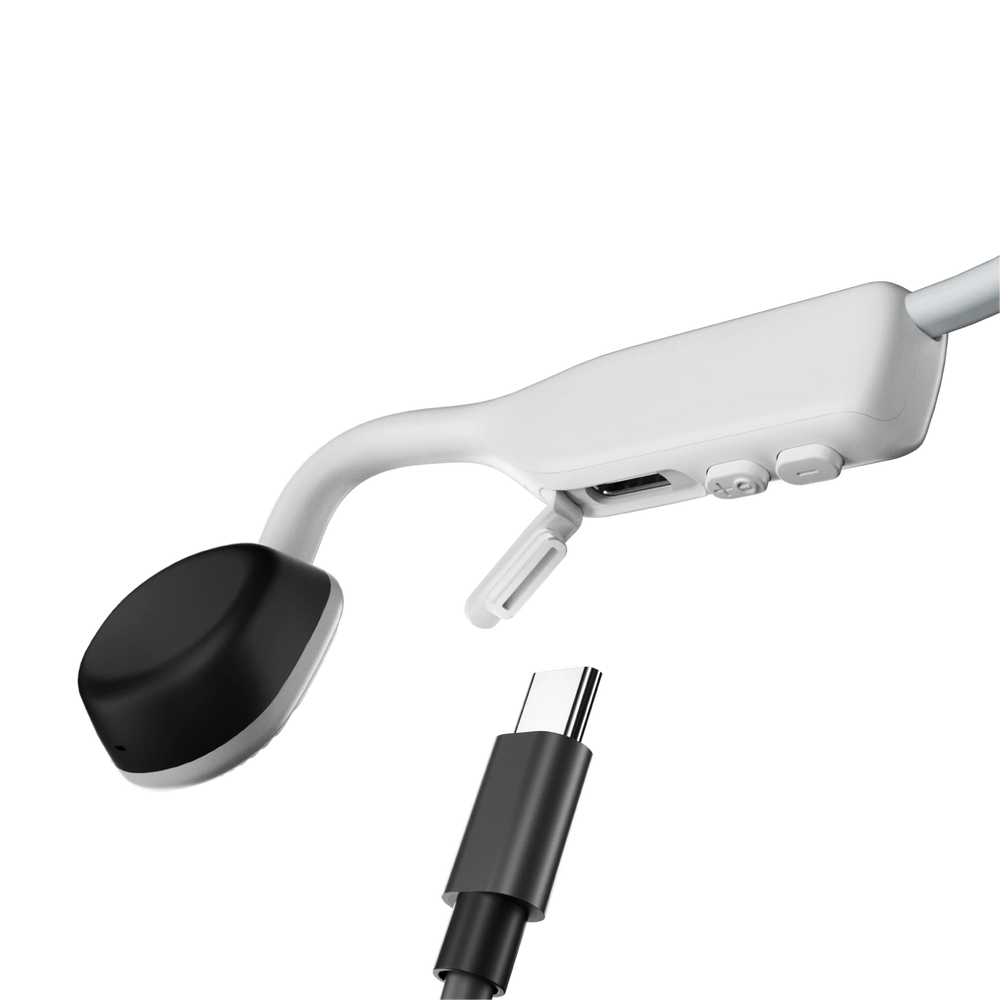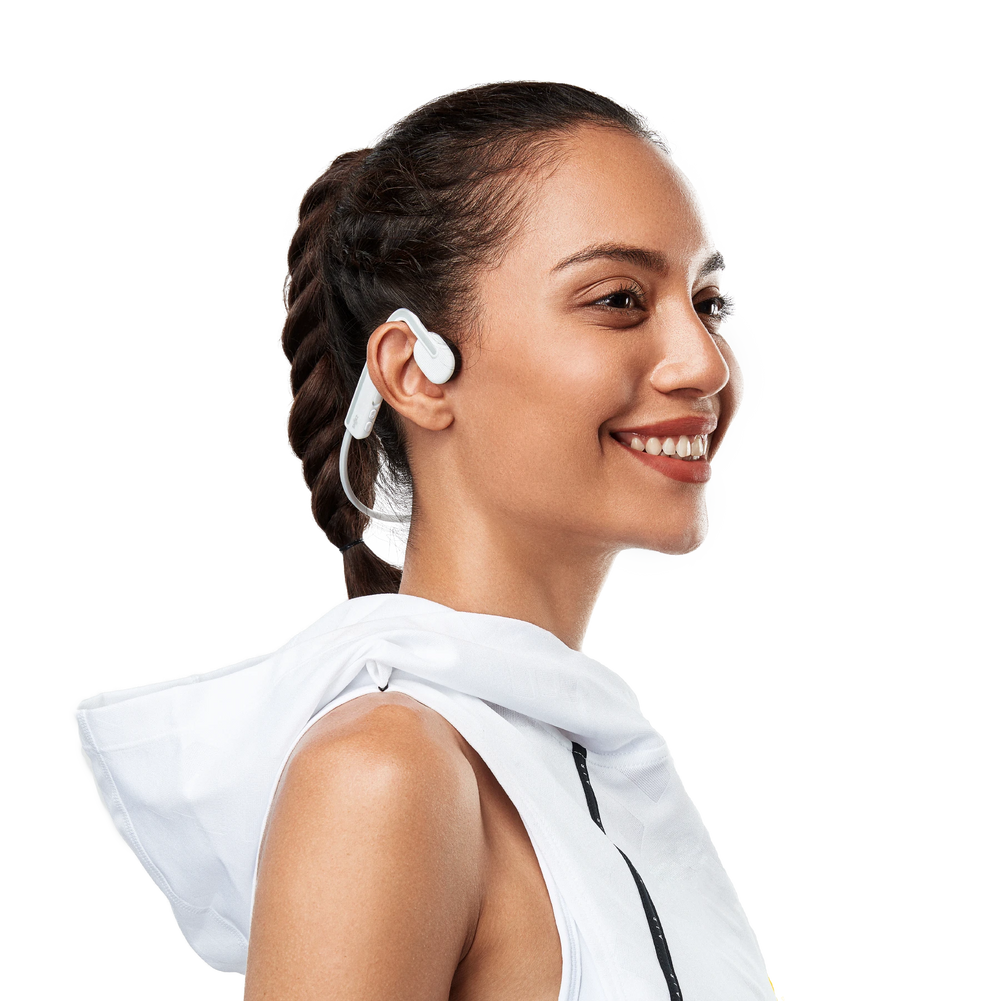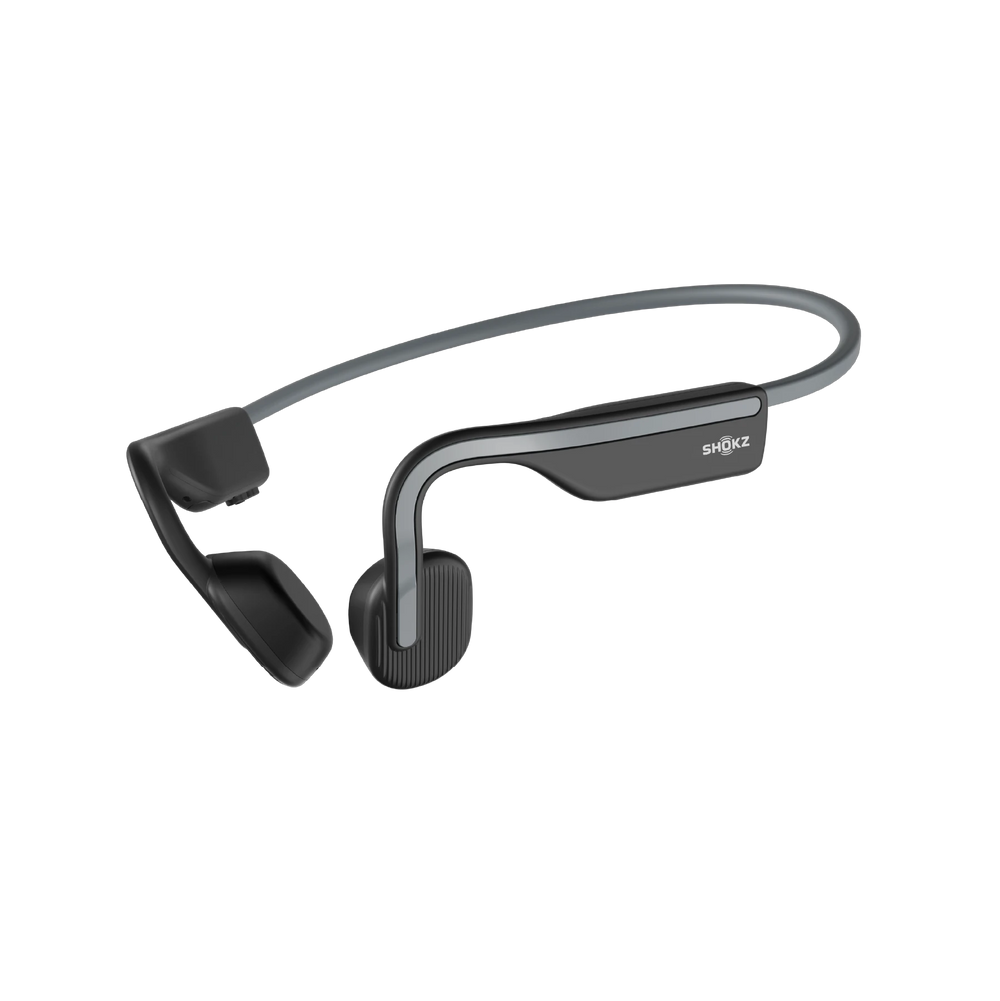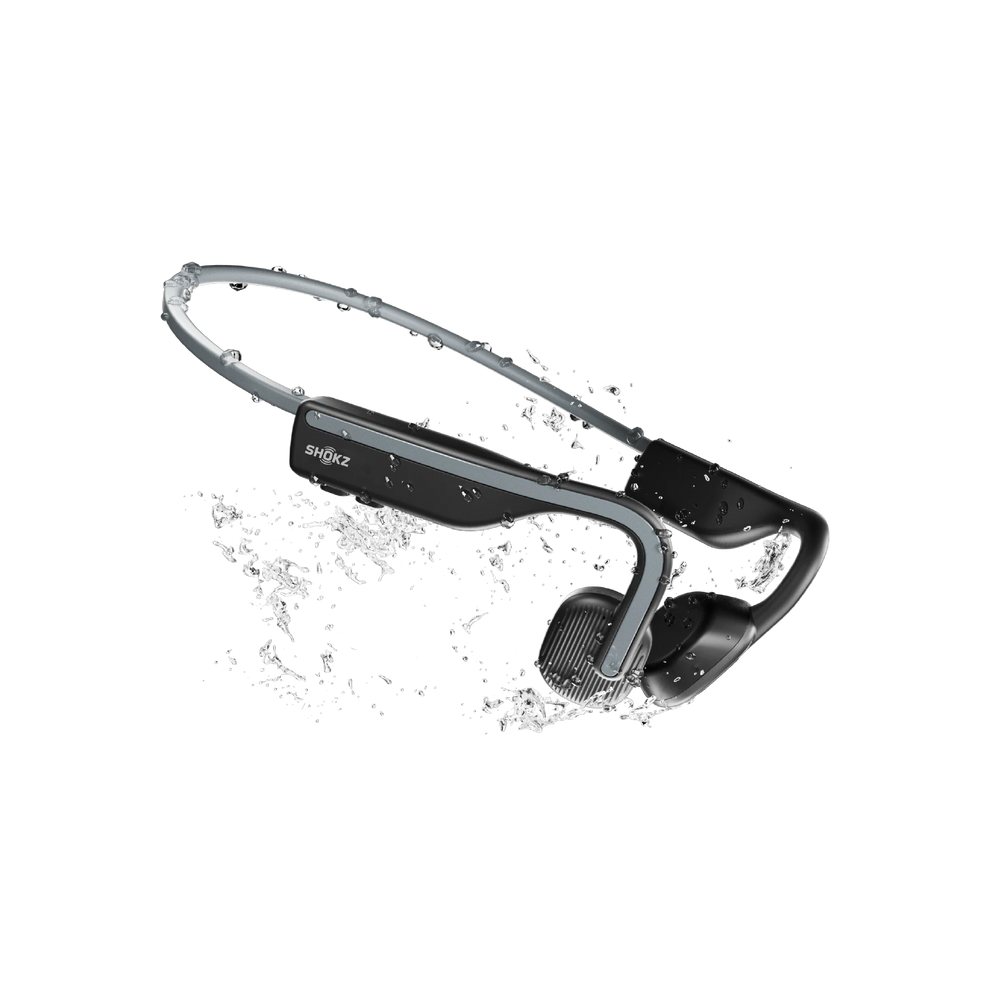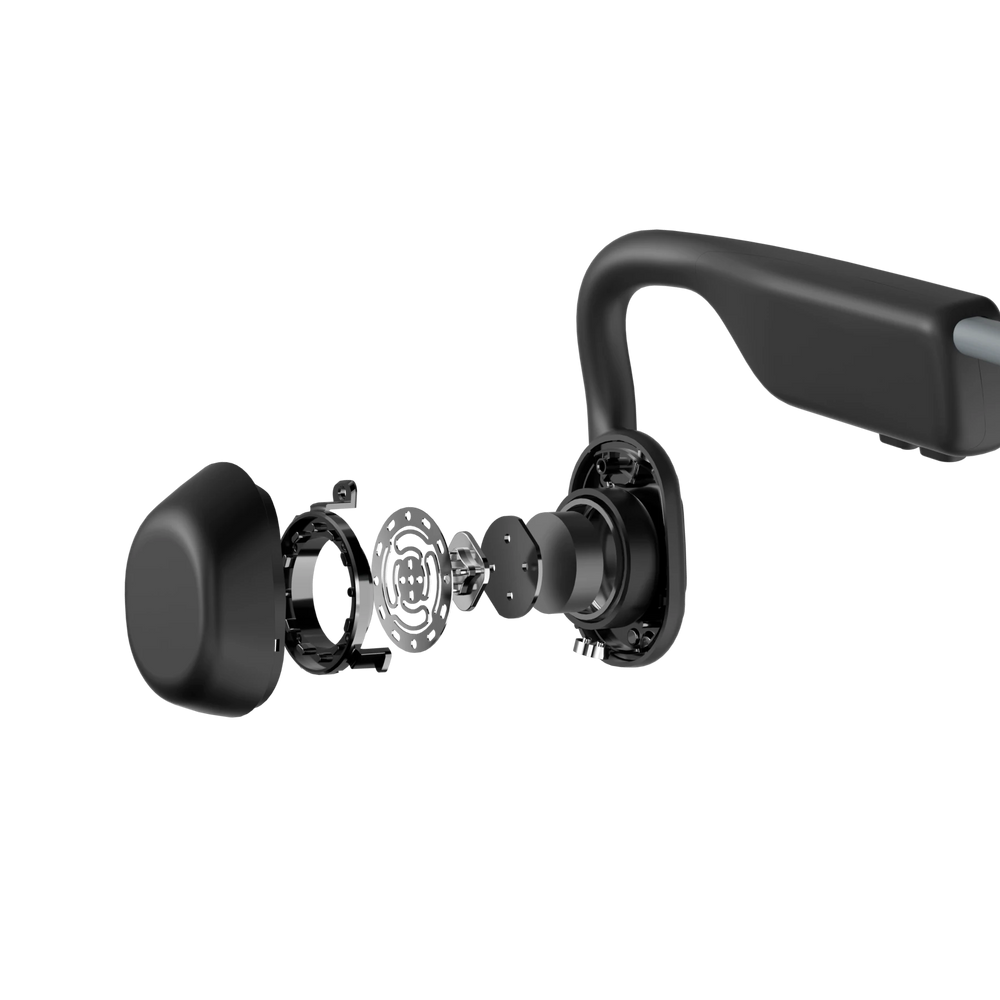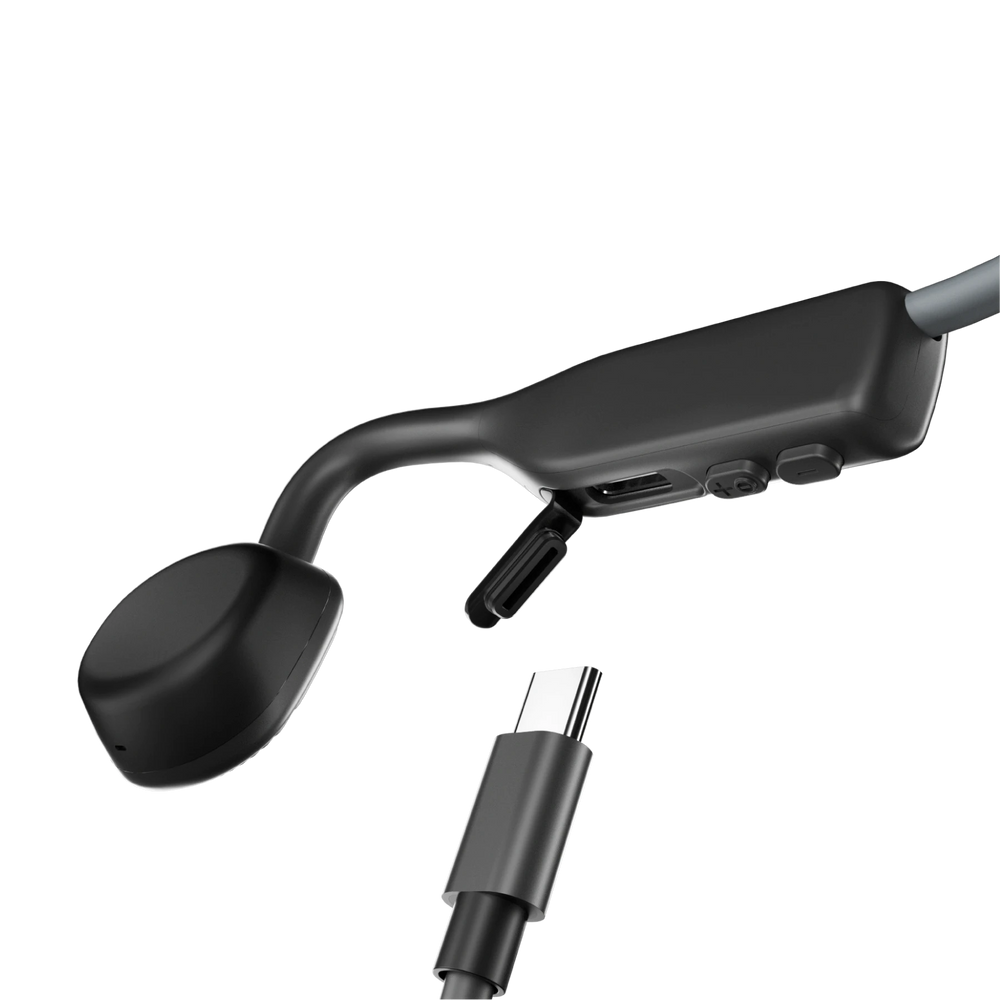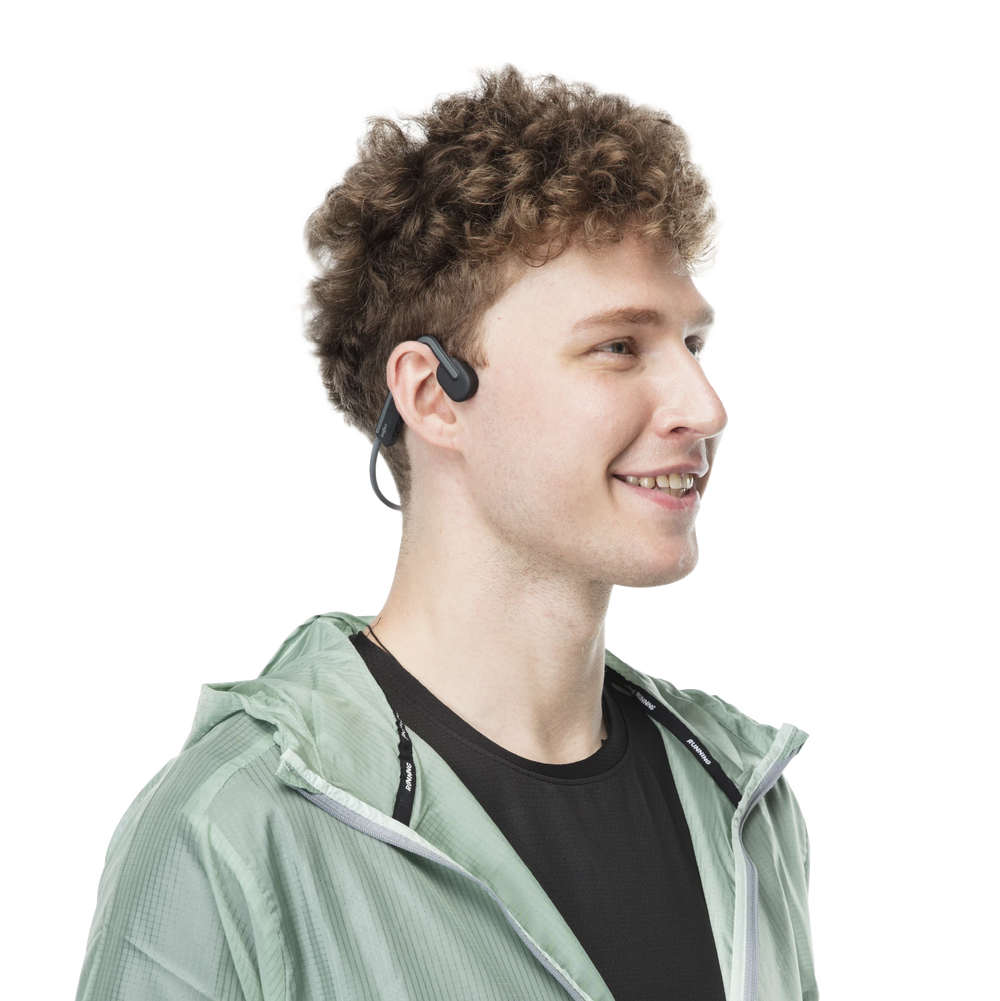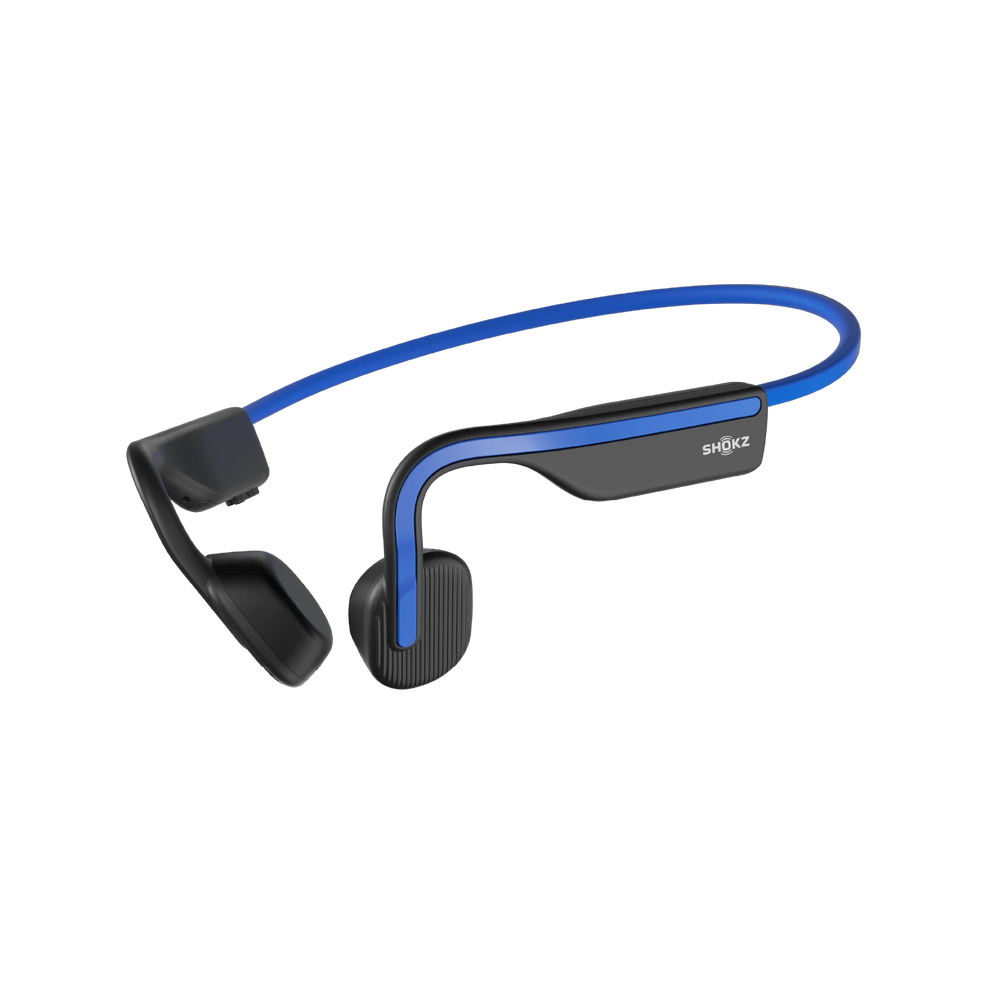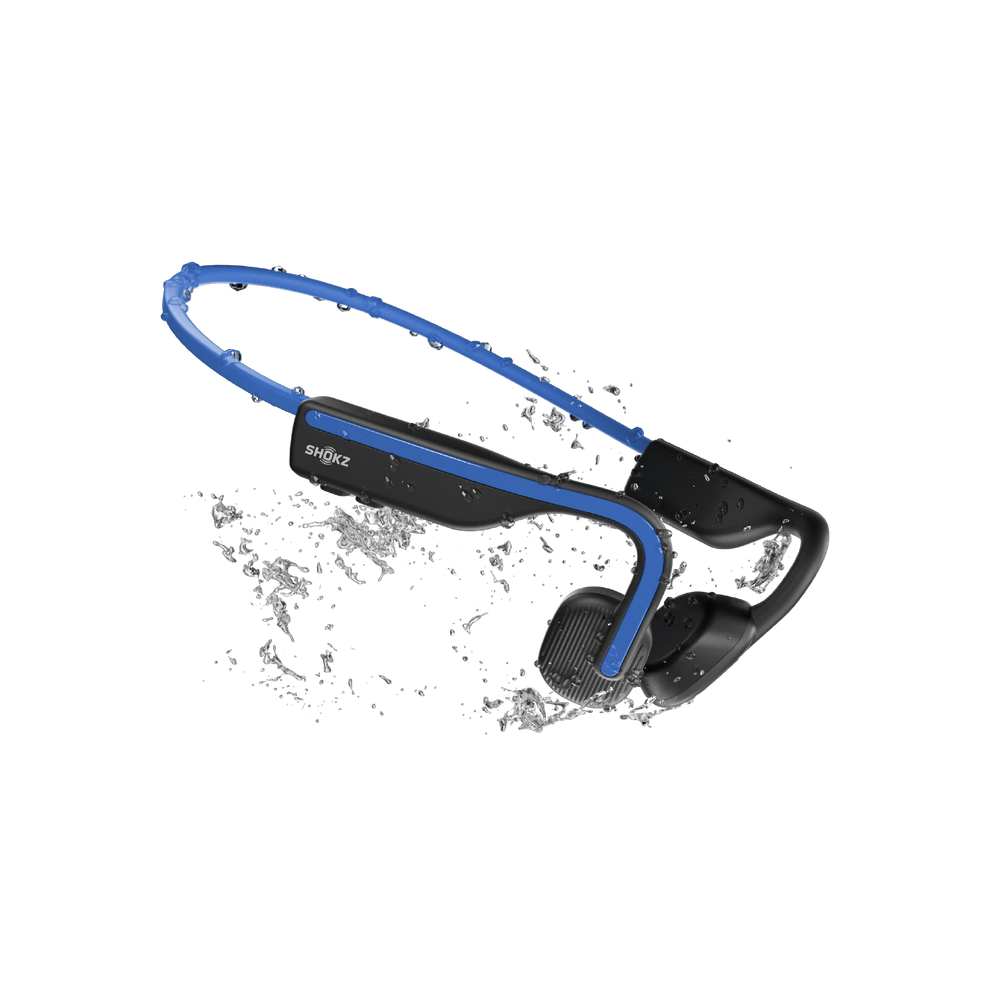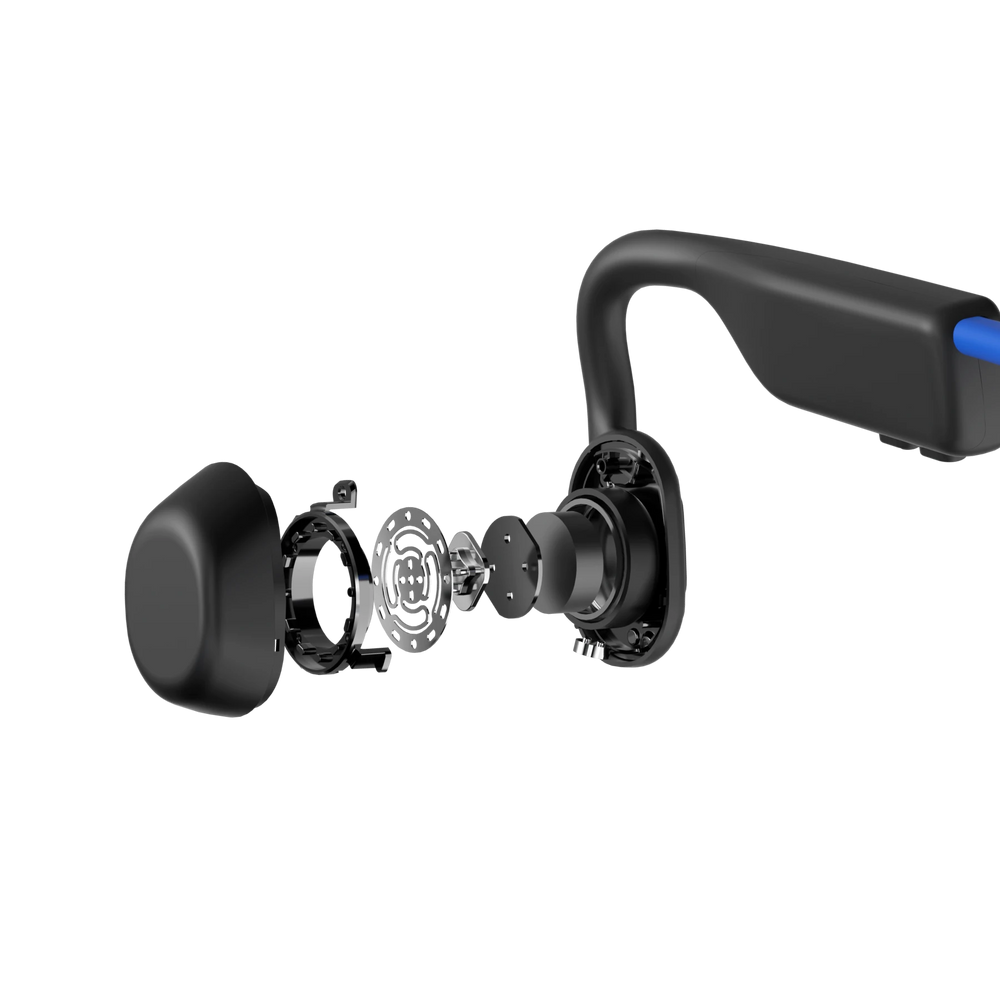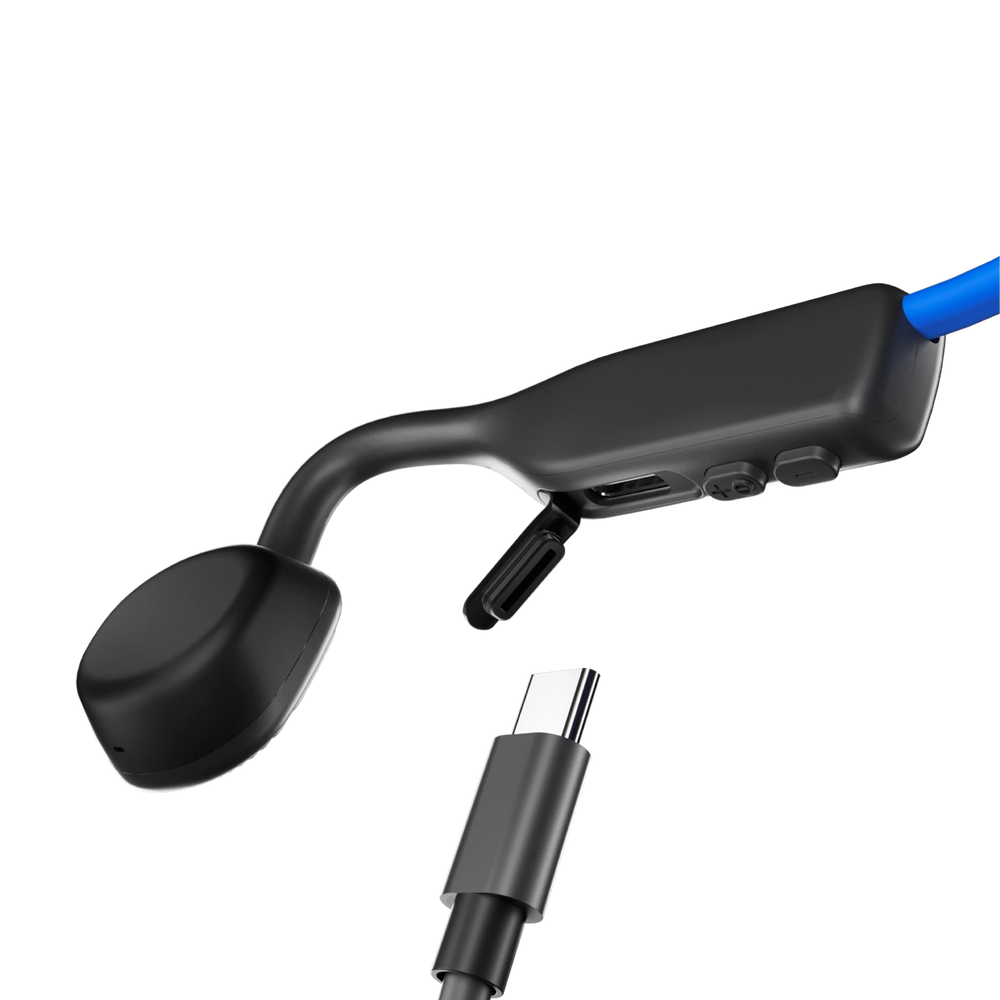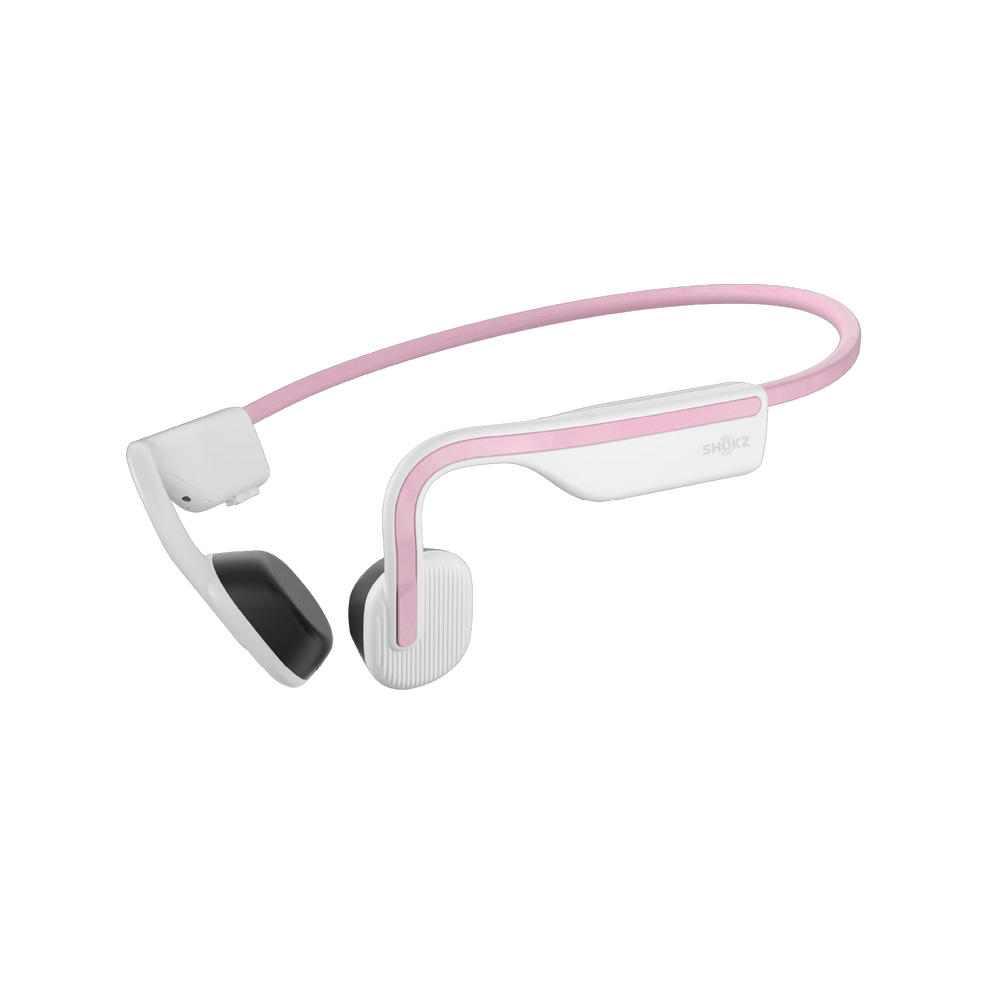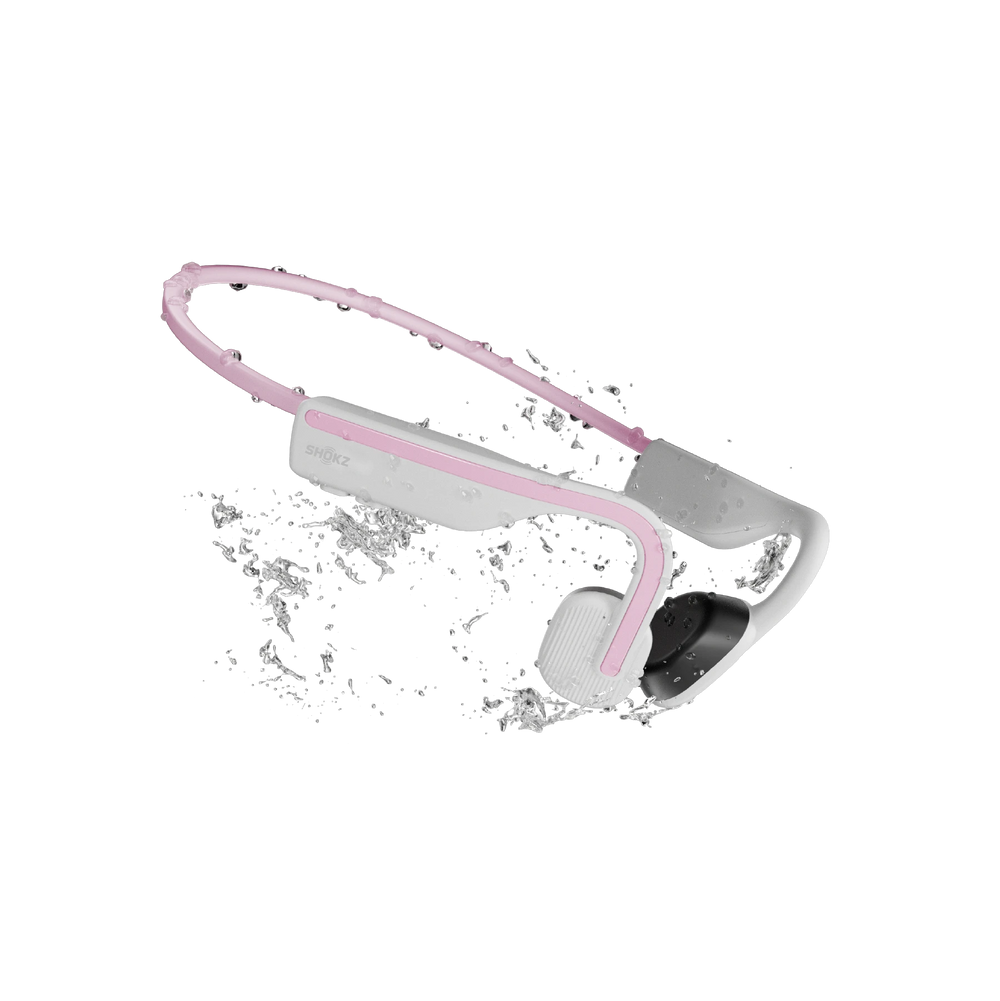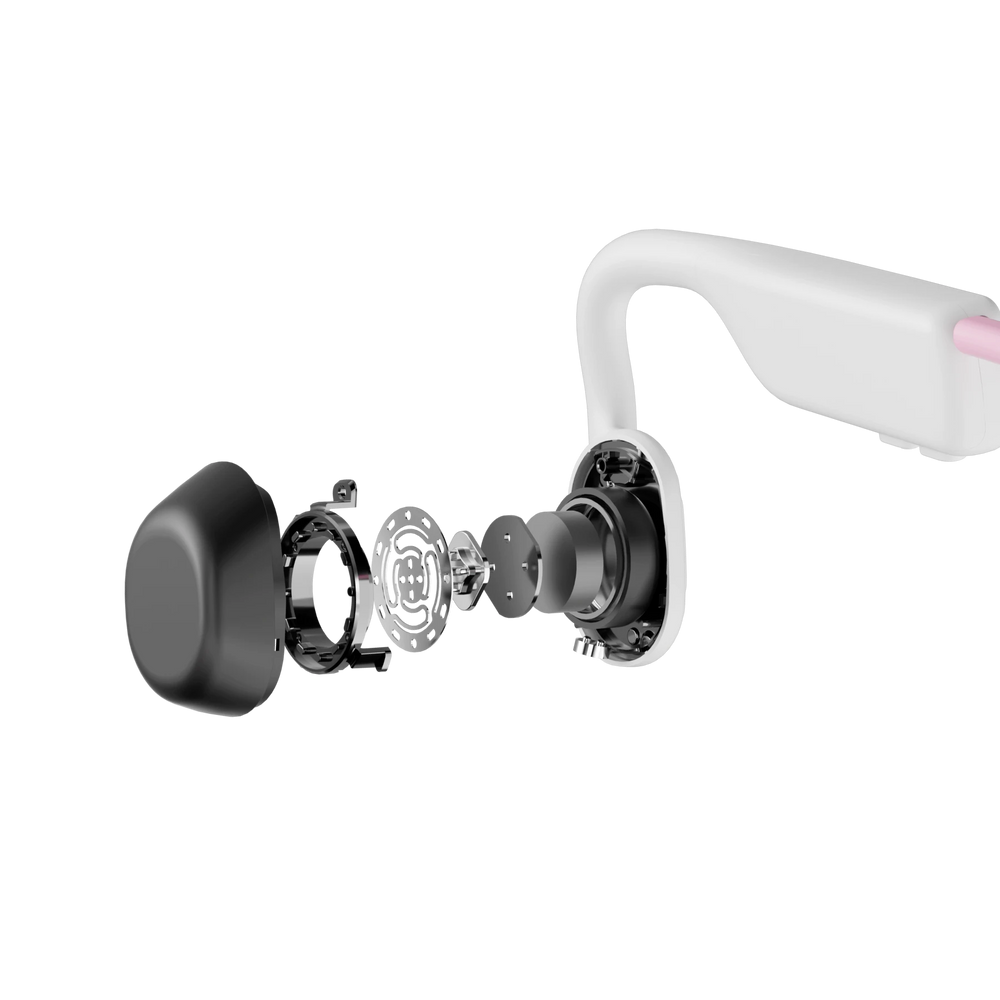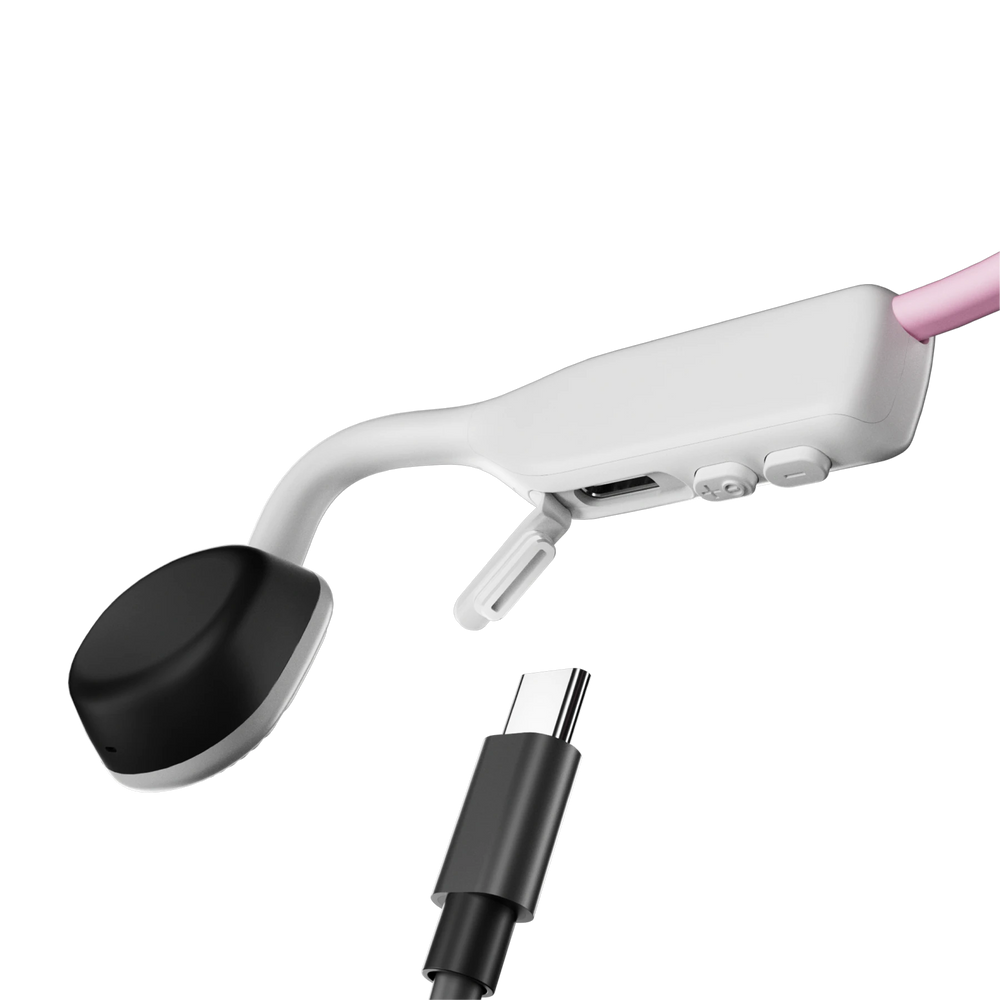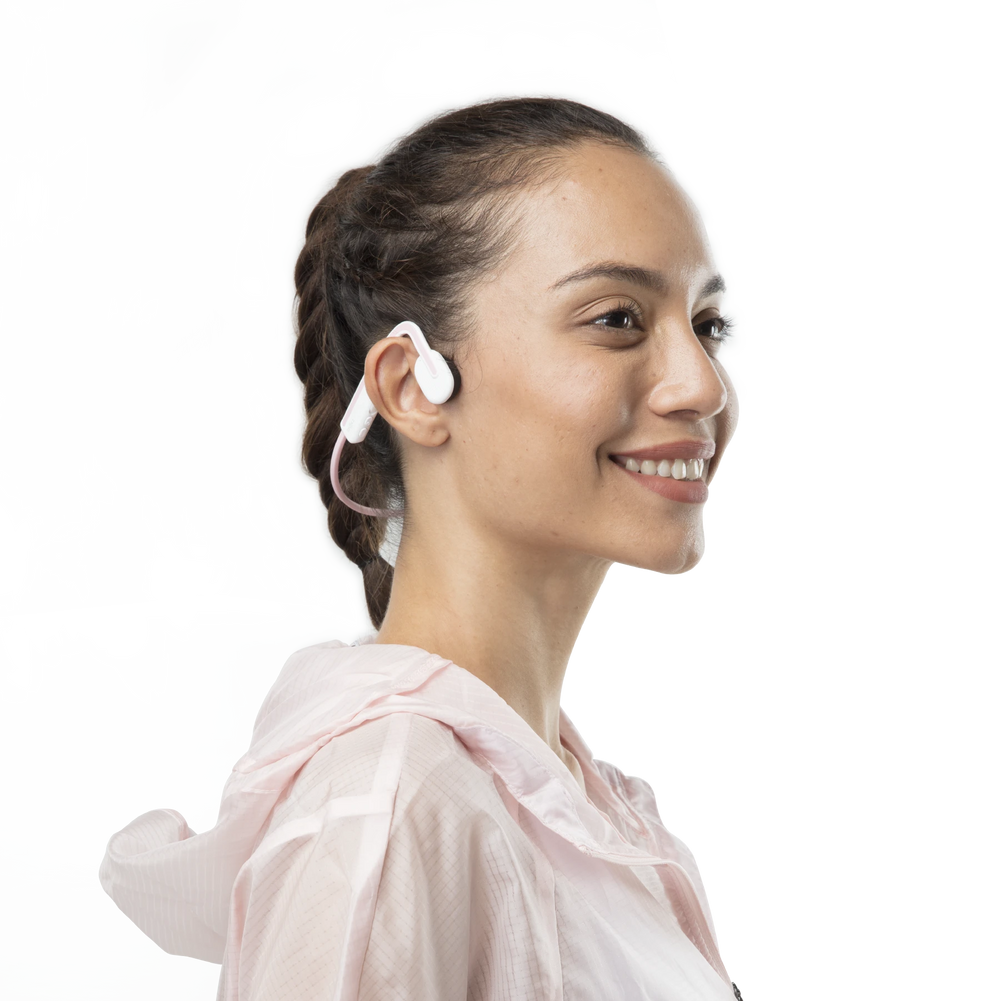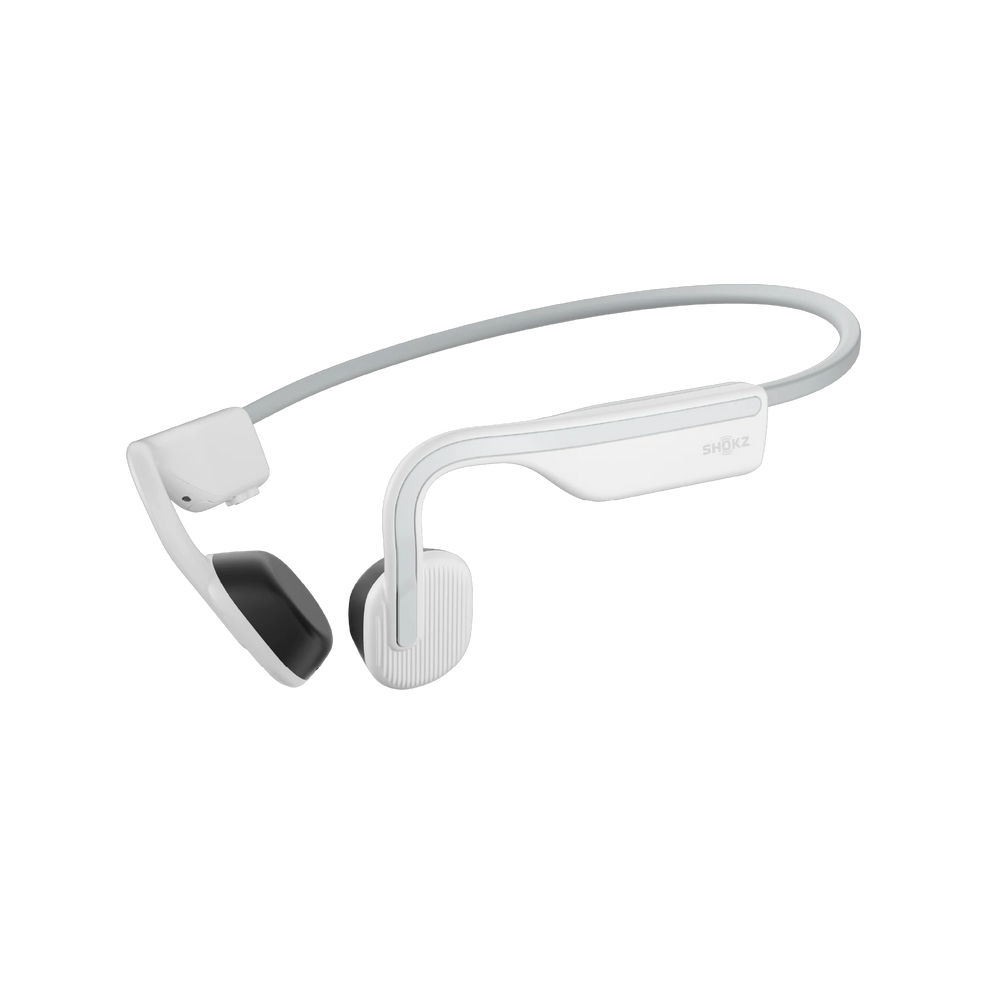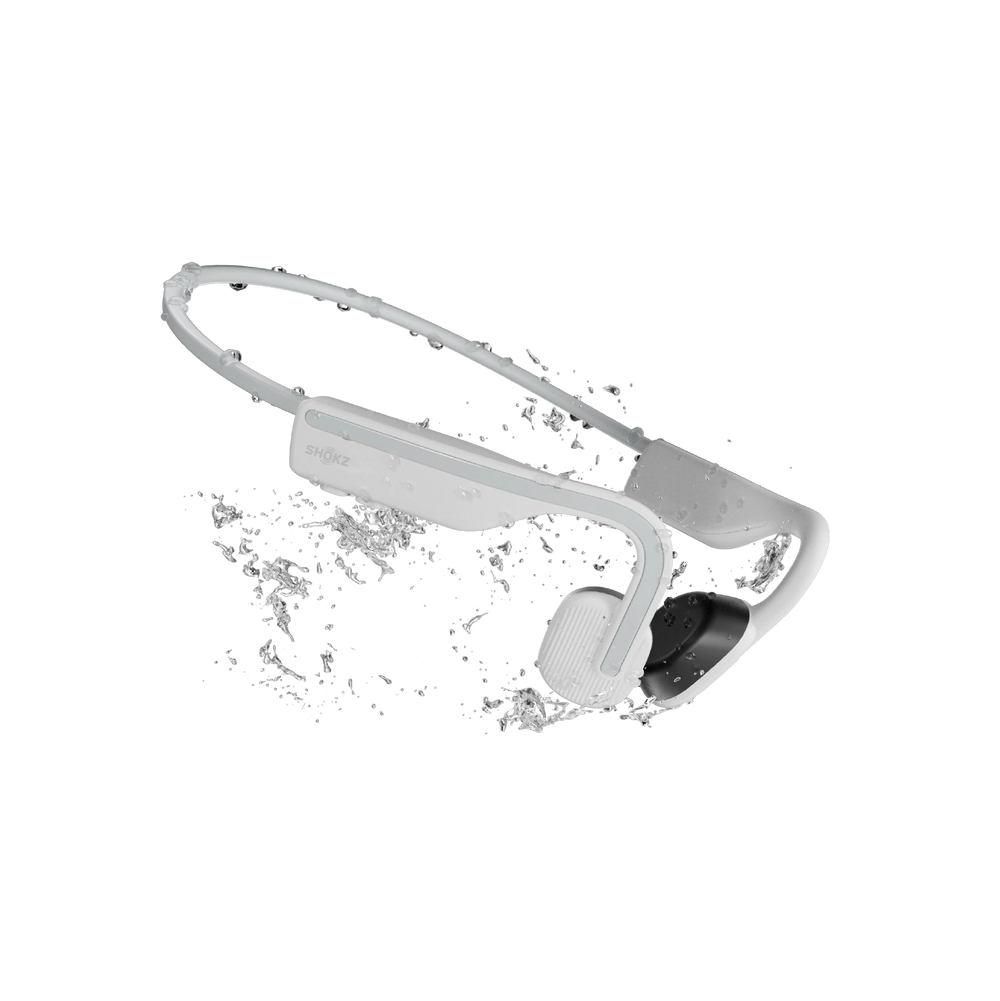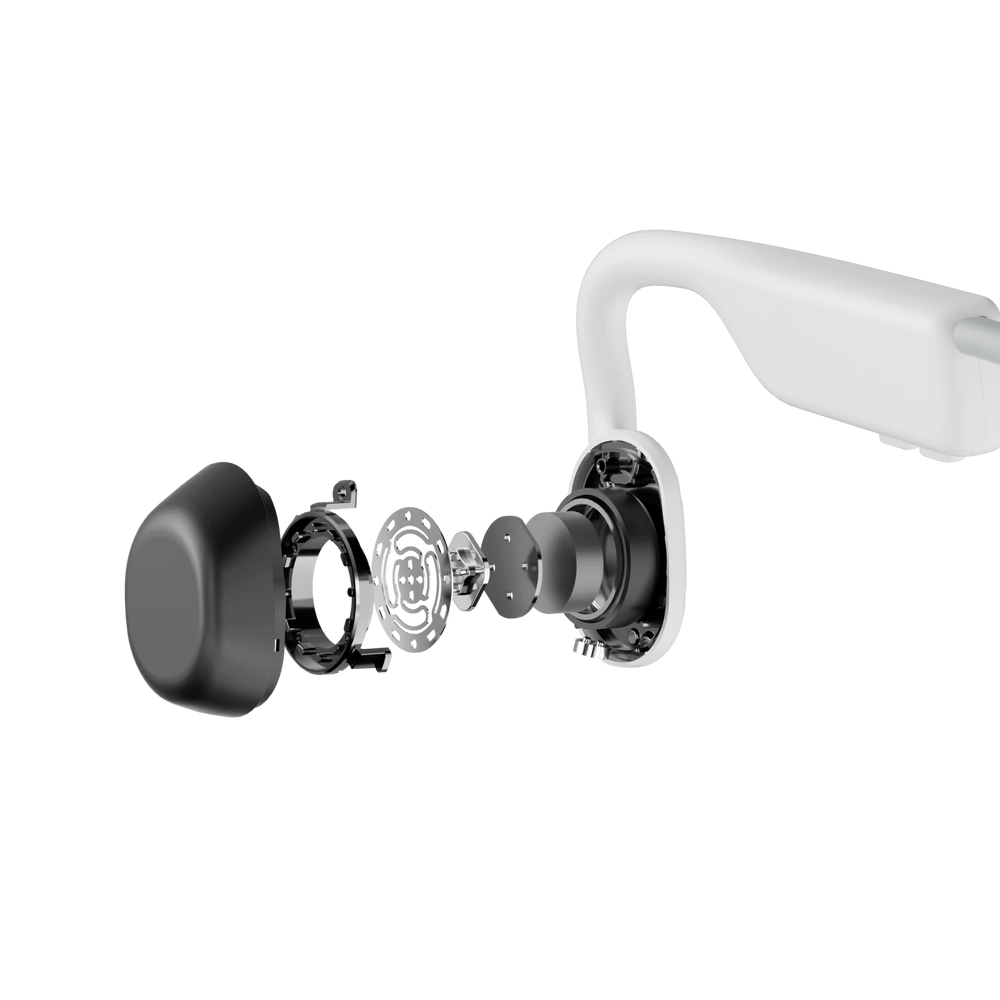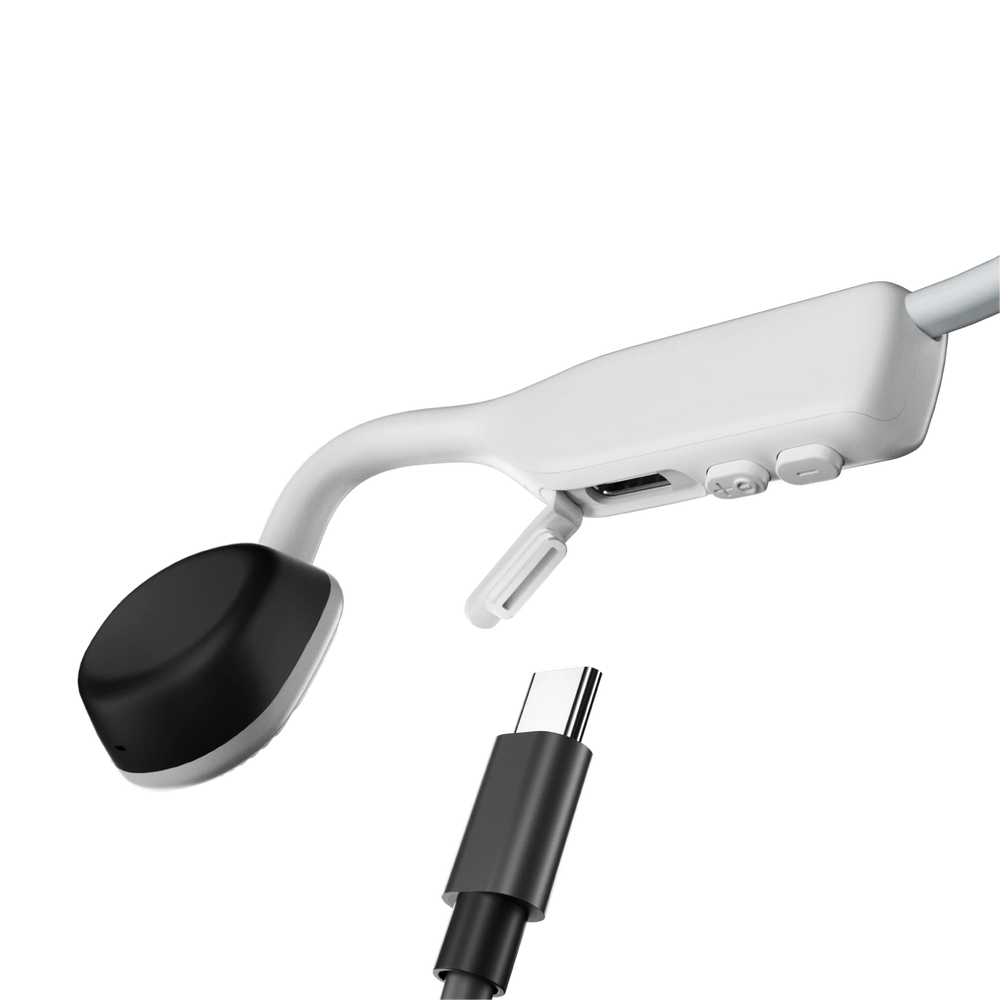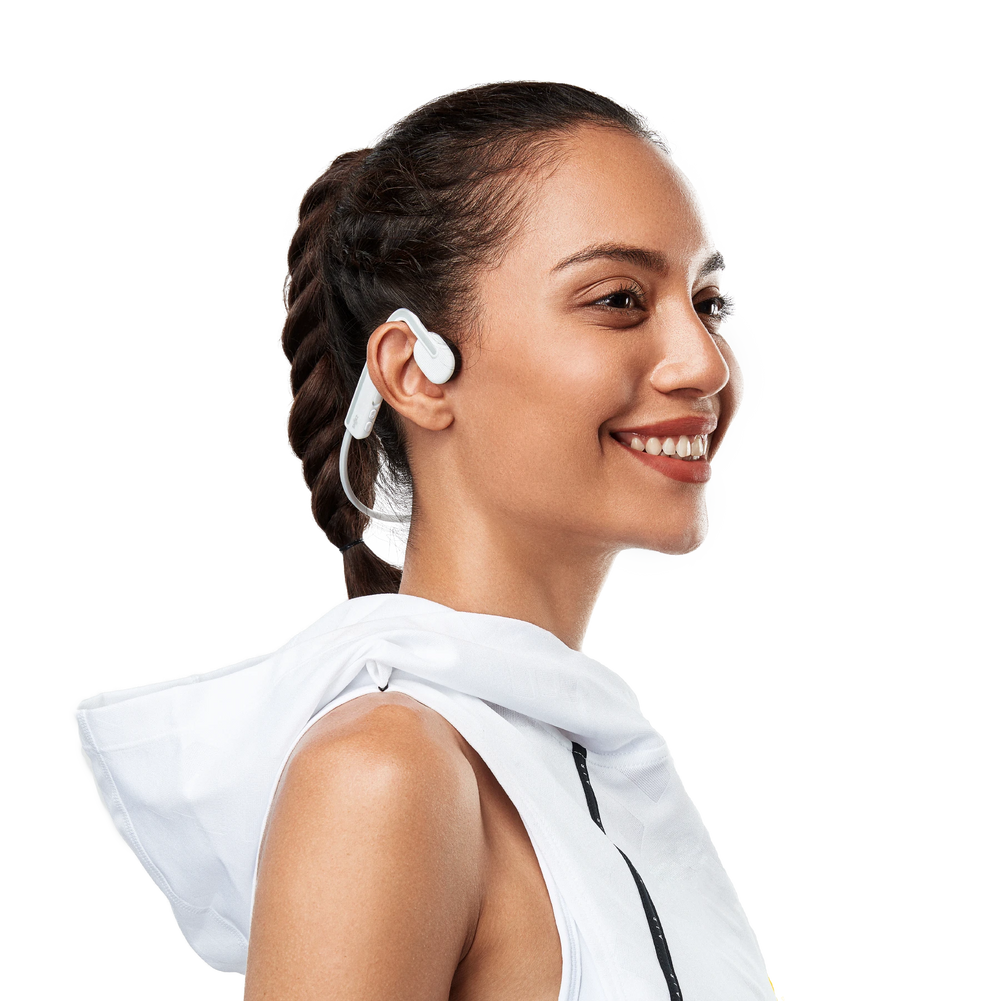 Free 2-3 Business-Day Delivery
LEARN MORE >
24-Month Warranty
You will enjoy a 24-month warranty period from the purchased date with any products here
Free 2-3 Business-Day Delivery
Orders will be dispatched within 2 business days. The parcel will arrive at your address in 48 hours once shipping out.
30 Days Return & Refund
30-day return & refund window is available for you if you aren't satisfied with your purchase here for any reason.
Awards for OpenMove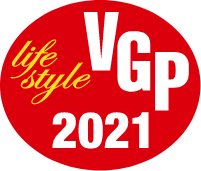 2021 Summer VGP Award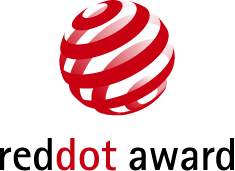 2021 Reddot Award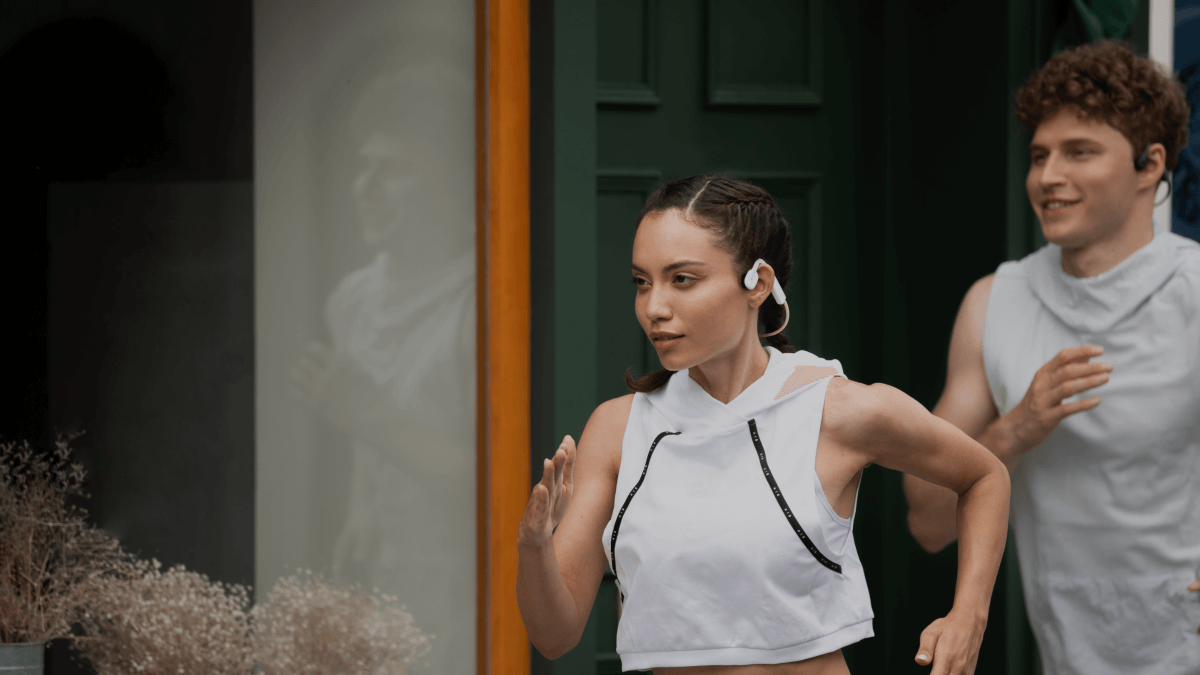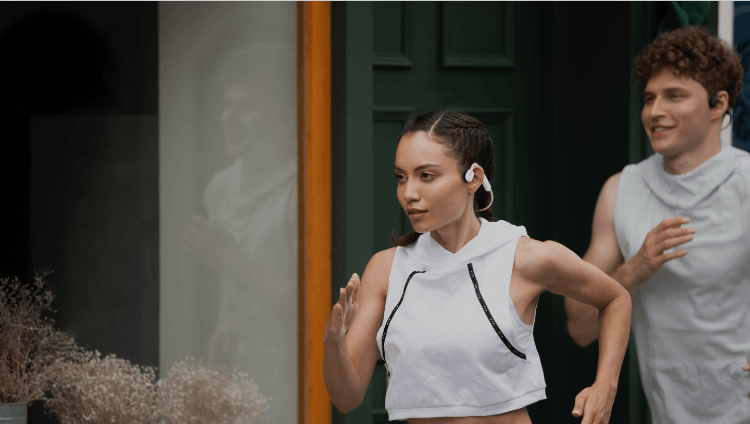 Entry Level
Bone Conduction
Headphones
For Daily Use.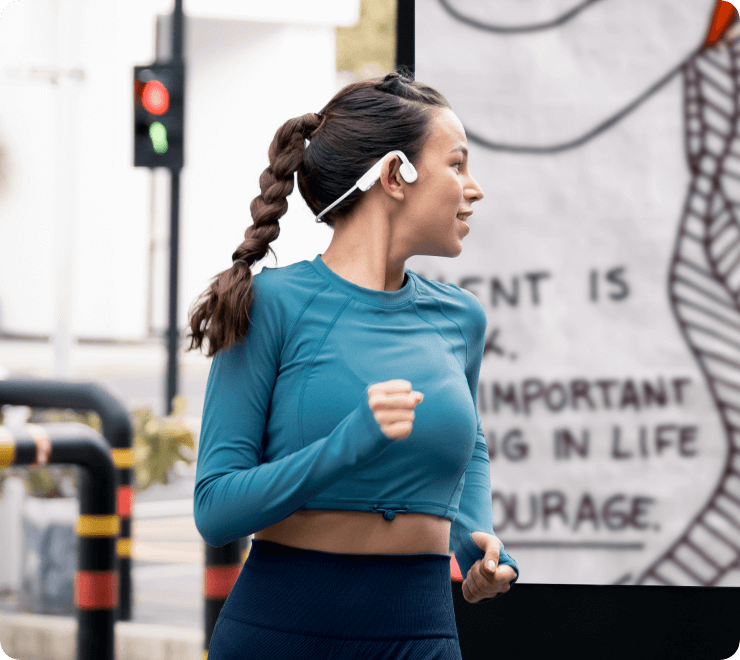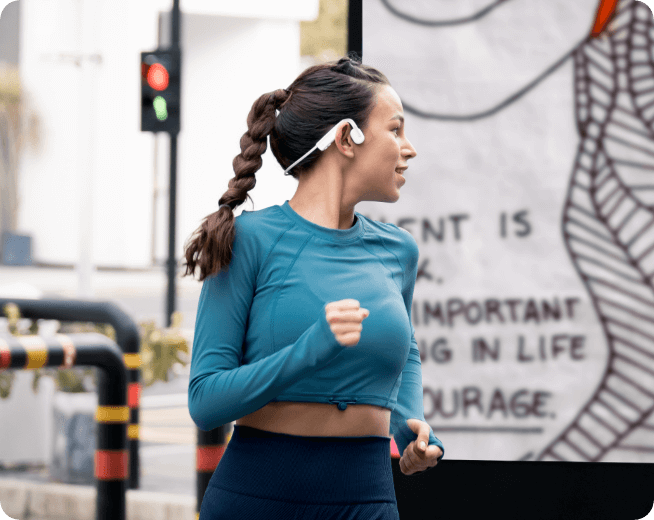 Stay Aware
Stay Safe
OpenMove headphones allow the sound of traffic and your music to be heard at the same time.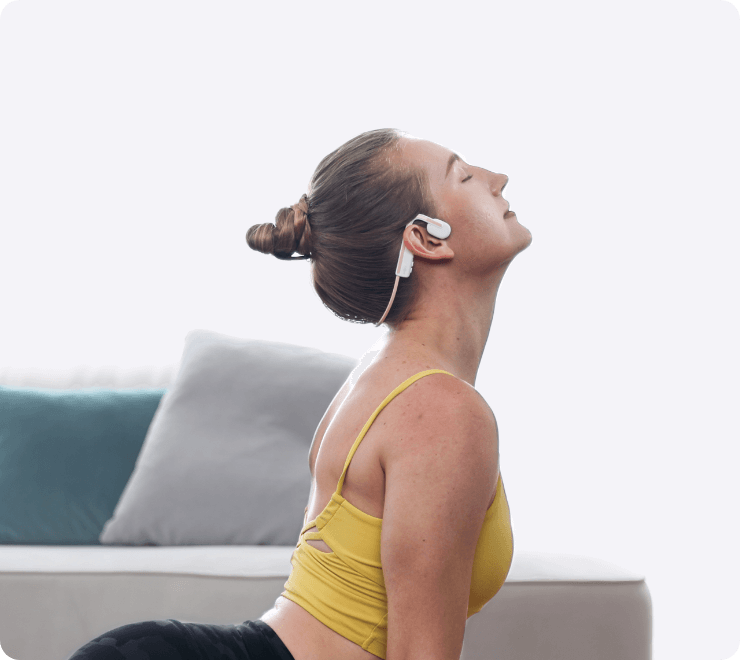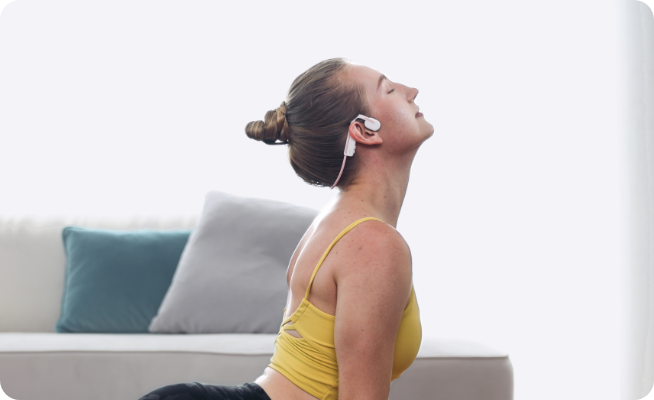 Open-Ear Comfort
Stay Put
OpenMove brings a pain-free listening experience with nothing in or over your ears, and stays put through all ranges of movement.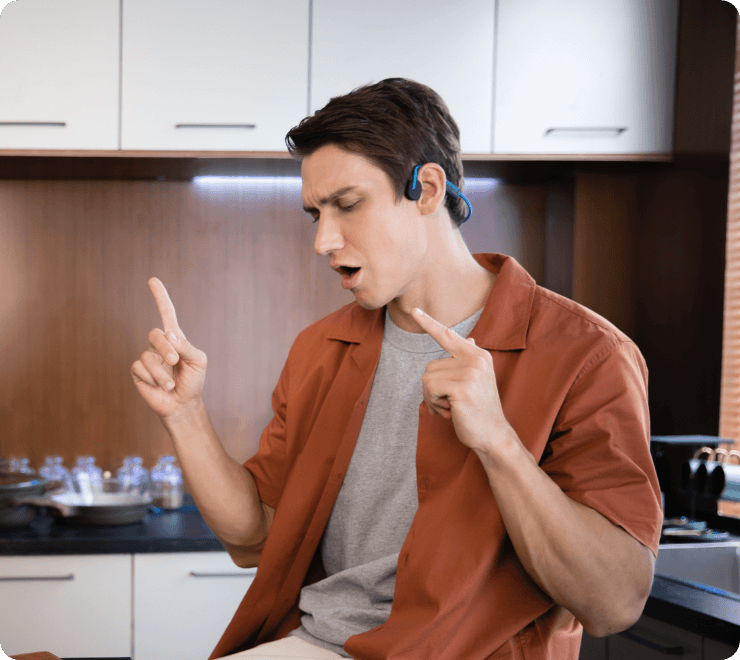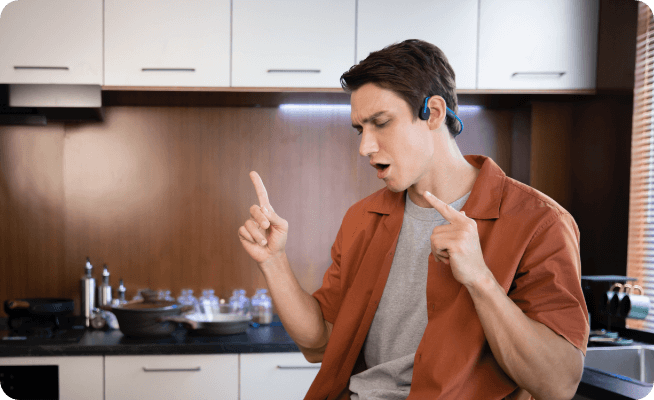 6-Hour
Battery Life
6-hour battery life and 10-day standby time allows you to music, calls, audiobooks, and podcasts all day long without battery life anxiety.①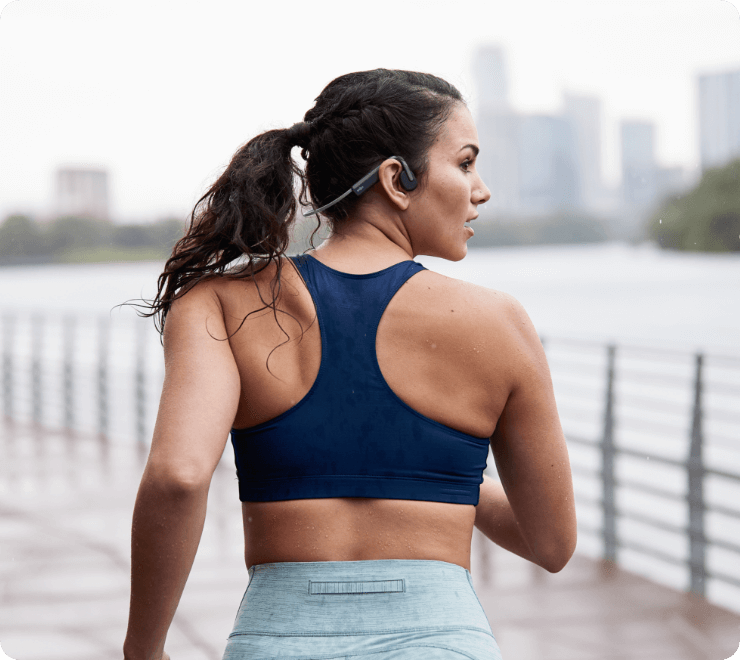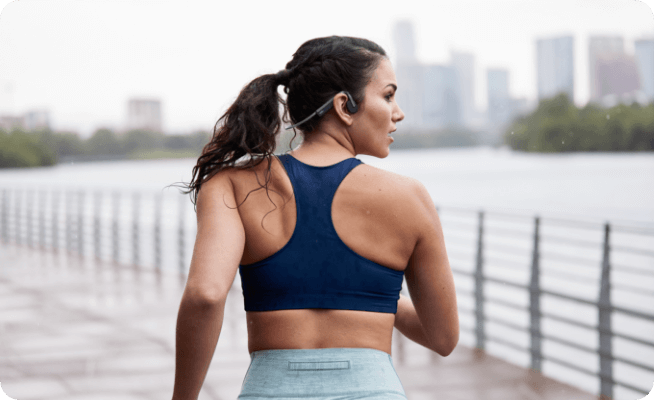 Sweatproof
IP55 Sweatproof protection helps the headphones hold up against moisture and dirt.②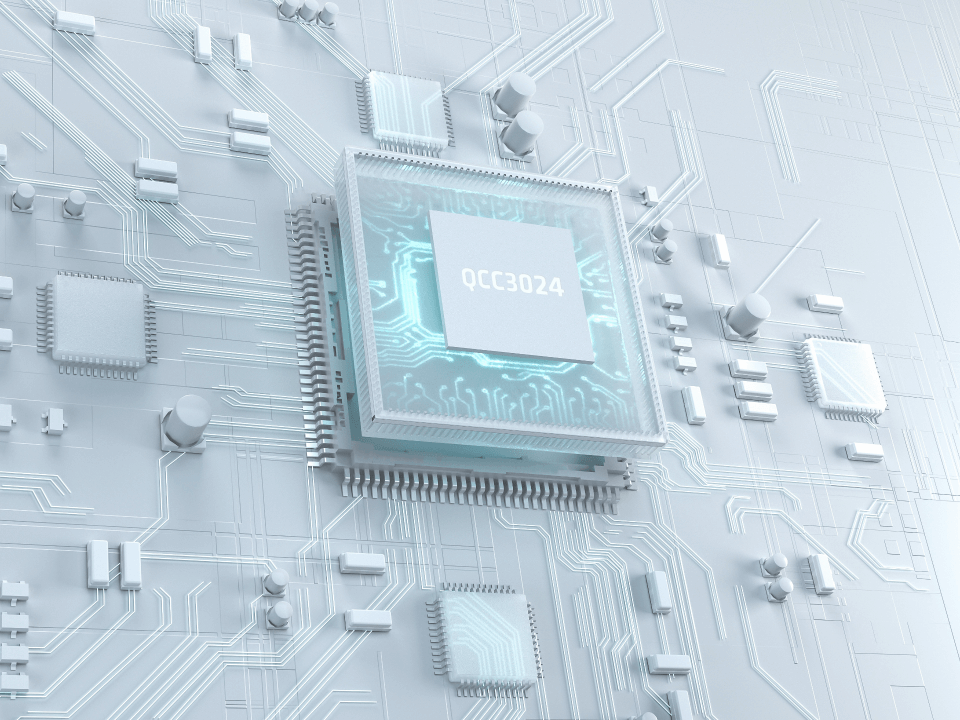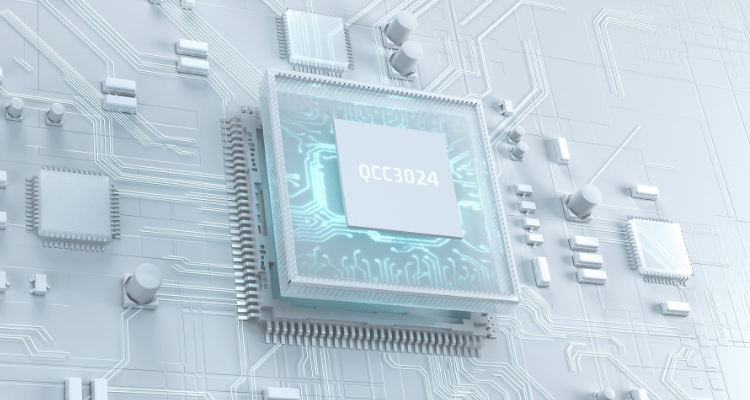 Enhanced Audio
Powerful Chip
Patented 7th generation of bone conduction technology delivers superior dynamic stereo sound. BluetoothⓇ 5.1 brings a quick and stable connection. Range of up to 33ft (10 meters).③
2 EQ Modes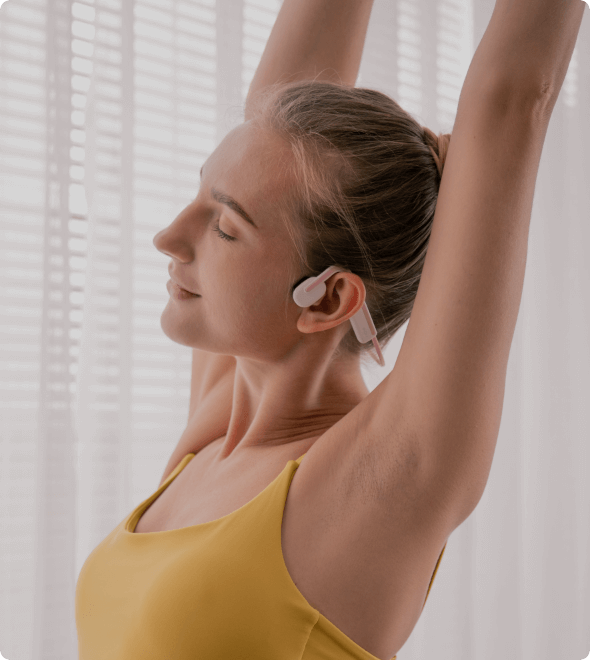 For outdoor use.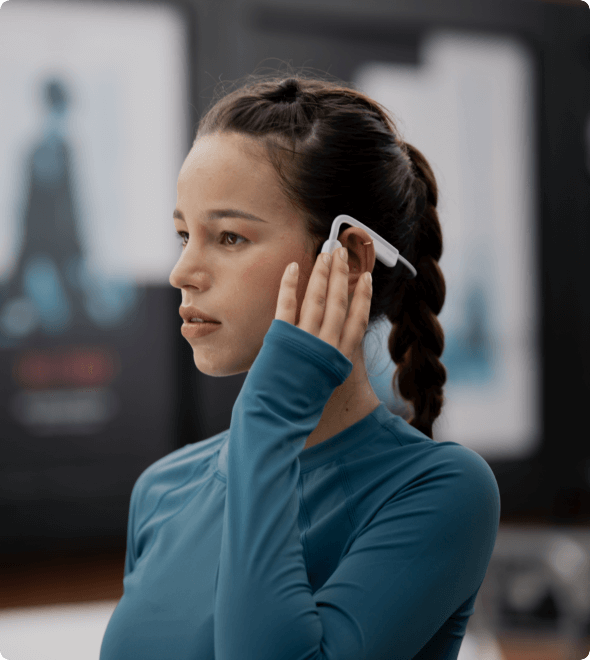 Crystal-clear sound for
Podcasts & audio books.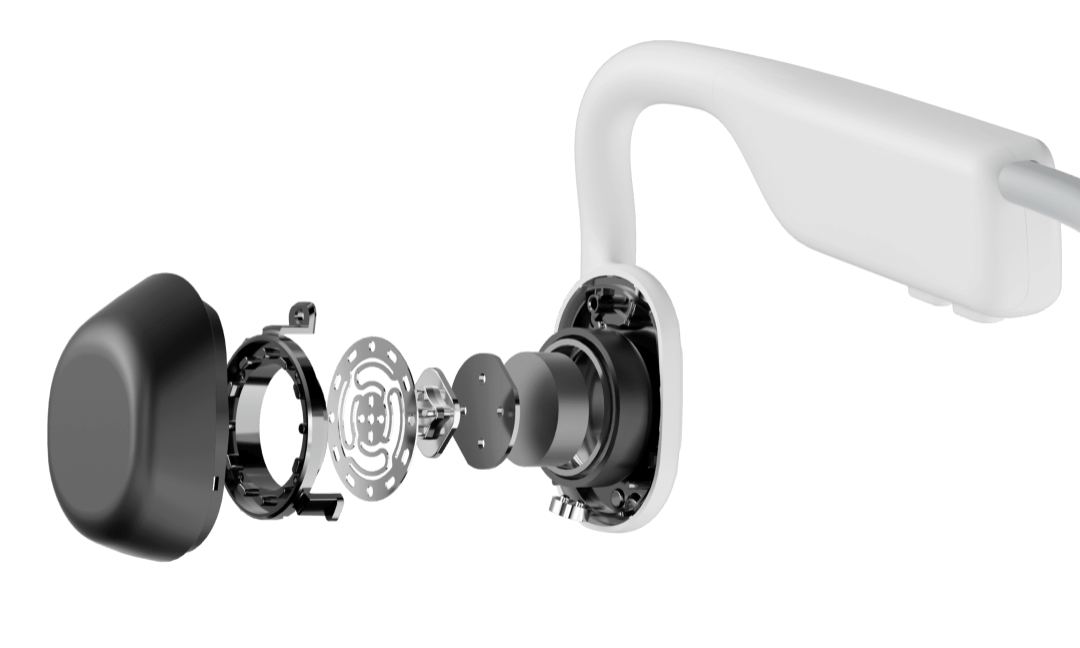 Crystal Clear Sound
For Stable Calls
The dual noise-cancelling microphones eliminates ambient noise for a stable connection for phone and video calls.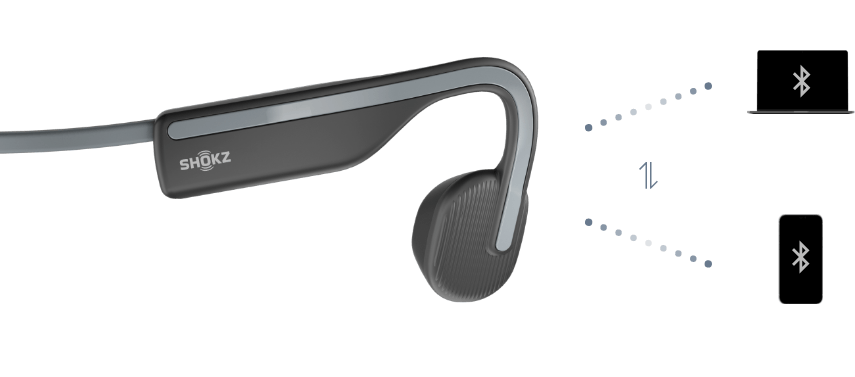 Multipoint-Pairing
Easy Switching
Easily switch connection between a PC and your smartphone.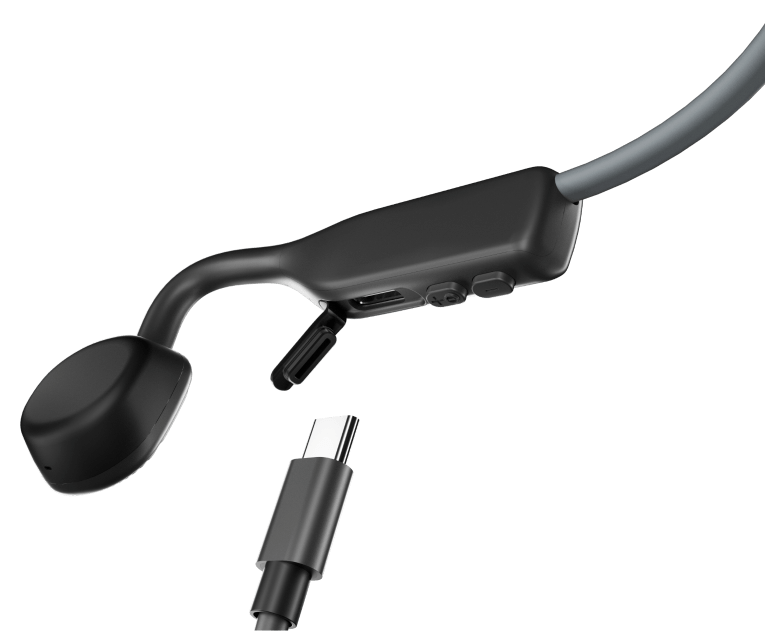 Easy Charge
The USB-C Charging Port makes it easy and convenient to charge the headphones.
Open-Ear Music
On The Move
Giving more people access to the brilliant experience of
open-ear listening in everyday life.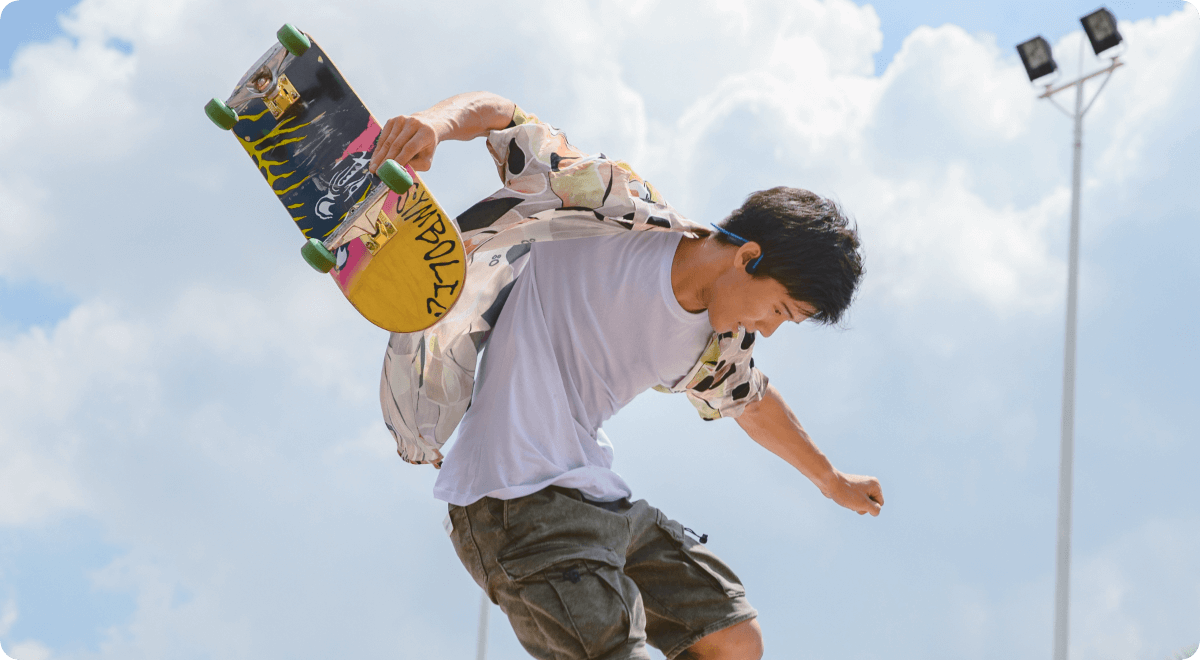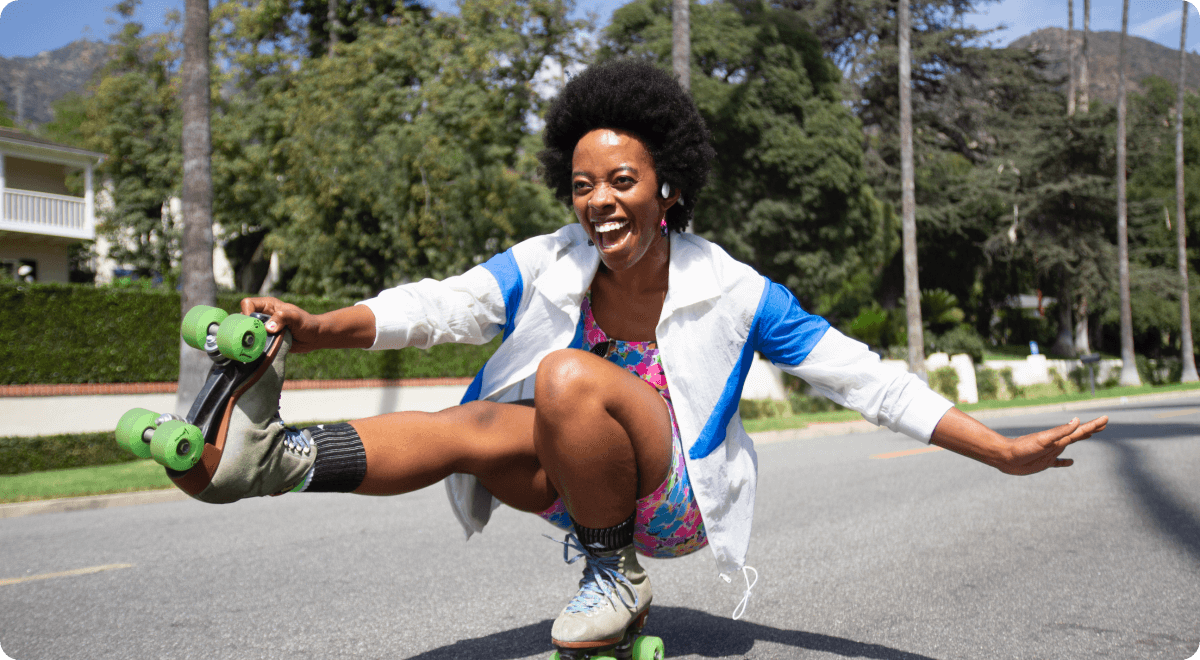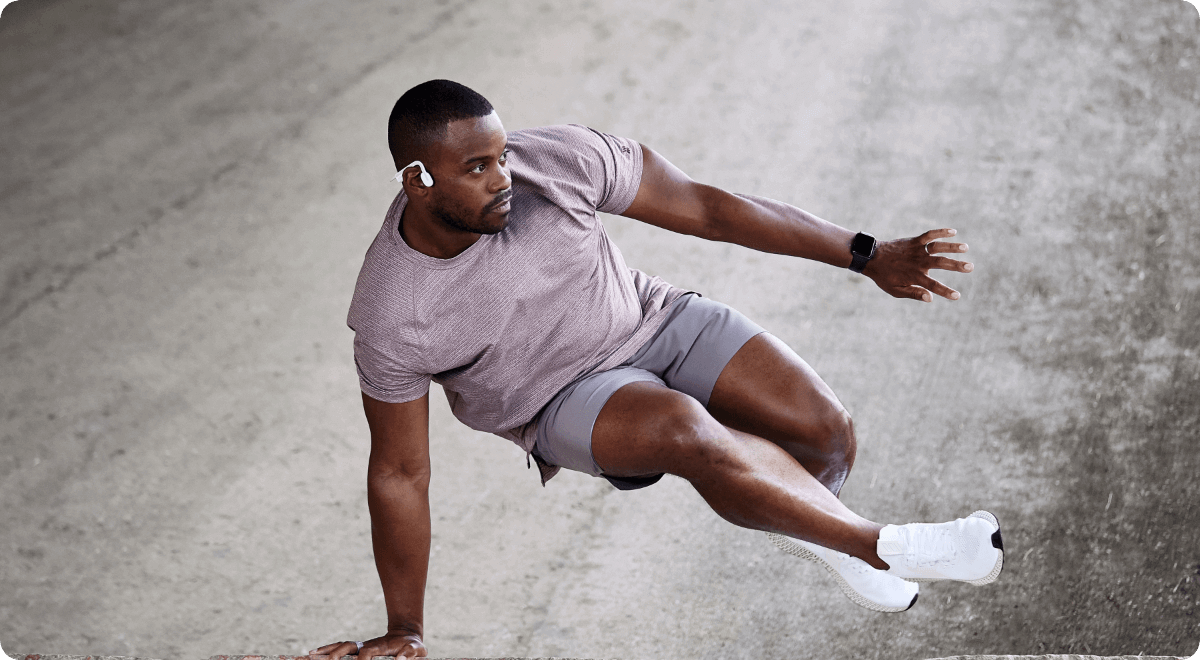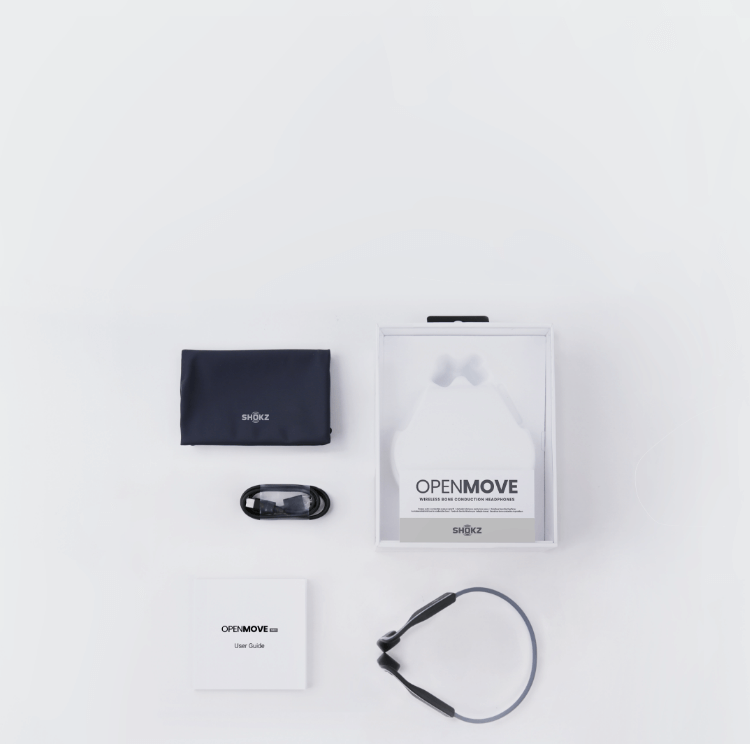 What's In The Box
OpenMove Headphones
USB-C Charging Cable
SPECS
BluetoothⓇ 5.1
Strong, reliable connectivity
up to 33 feet (10m).
PremiumPitch™ 2.0
Stereo Sound
A premium audio experience
every time.
2 EQ Settings
Human voice mode and
standard mode for
customizable listening.
Battery
Standby Time
Up to 10 Days
Maximum Charging Voltage
5.25 V
Connectivity
Bluetooth Versions
Bluetooth V5.1
Compatible Profiles
A2DP, AVRCP, HSP, HFP
Design
Sweat & Water Resistant
IP55 Sweatproof
Materials
Titanium Headband Polycarbon Ear Hook
Command Controls
Multifunction button, Volume button
Sound
Frequency Response
20Hz~20KHz
Microphone
Microphone Type
Dual Noise-Canceling Mic
Microphone Sensitivity
-40dB ± 2dB
SHOW FULL SPECS >
Find The Right Headphone For You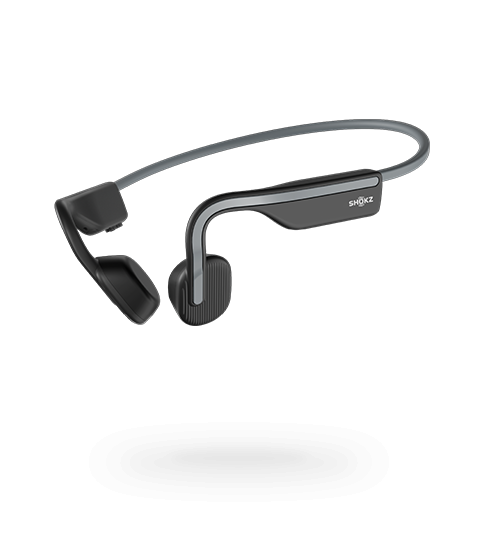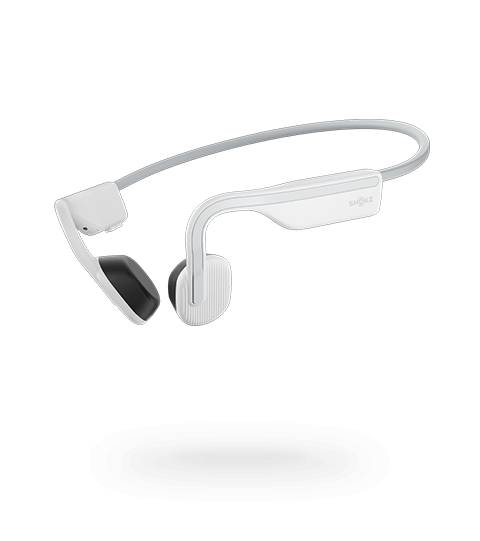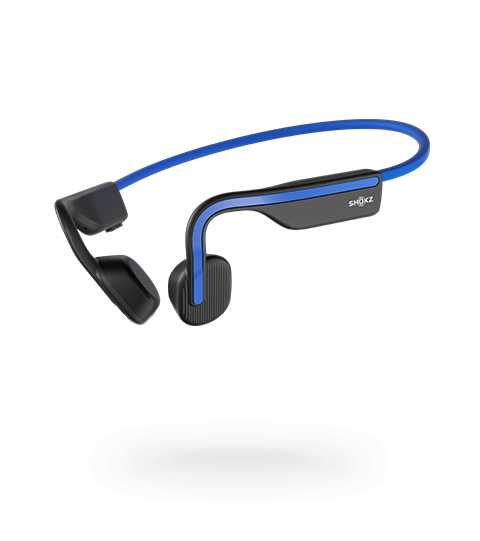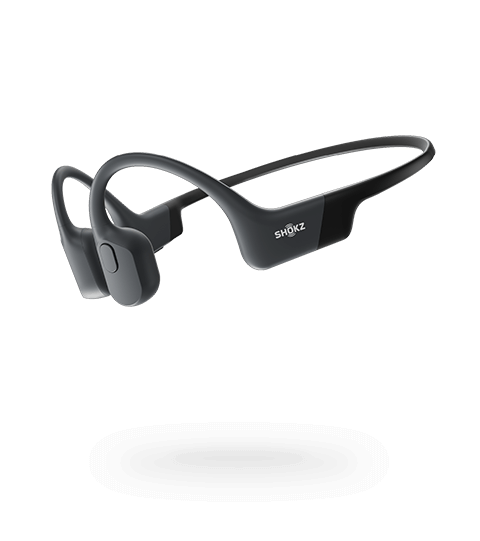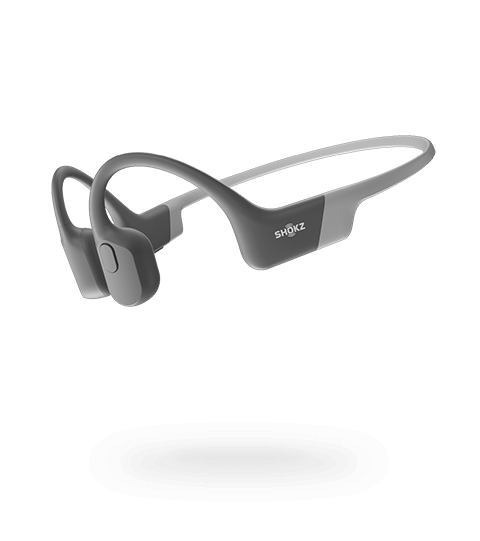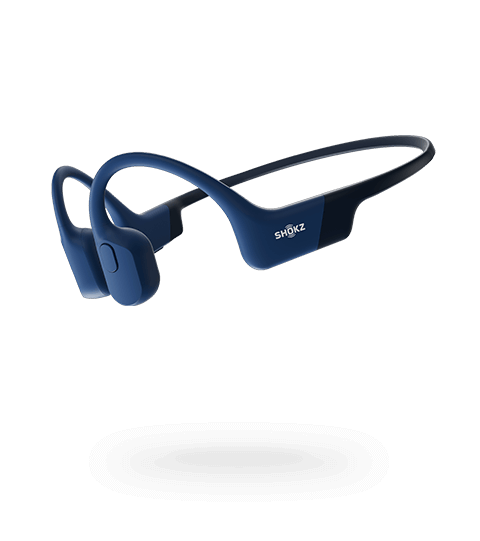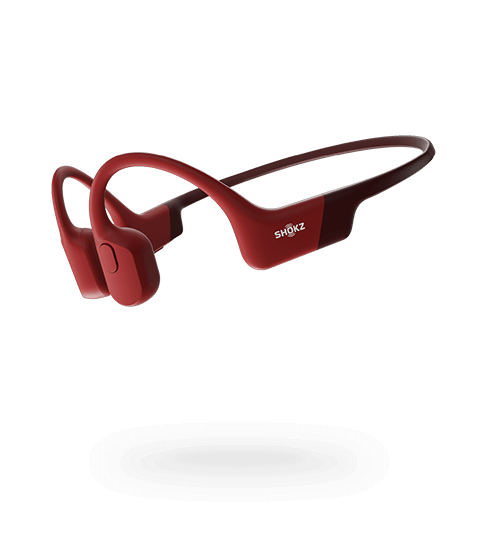 Bluetooth
BluetoothⓇ 5.1
BluetoothⓇ 5.1
Water Resistance
IP55
Sweatproof, against splashing water
IP67
COMPARE ALL >
Expert Reviews
"Bone-conducting headphones aren't supposed to replace 'normal' headphones, rather to give active people an option to enjoy music or listen to podcasts when they exercise without risking their lives in the process by blocking their hearing."

"The AfterShokz OpenMove is a great-sounding Bluetooth bone-conduction headset that allows you to work out with music while remaining aware of your environment."

"Rather than an upgrade on the Titanium, I see the OpenMove as an improvement on the Air headphones. They're a cheaper option that are also lighter, have more modern Bluetooth tech, and match the Air for sound quality and battery life at six hours of playback."

Open move shokz
Had them bought for me as a gift months ago. No way these are bone conduction but rather need putting over the ears to hear something. When it gets to about 60% left battery, a weird loud female voice screams 'charge me' every half a minute. It is scary annoying and can't be stopped. On the good side, they're light enough and some of the surrounding environment can be heard at the same time. Overall it is a weak product and I wouldn't have bought it.
These headphones are a gift so I don't know about their performance but the person to whom I'm gifting them really wanted this brand & model based on previous experience. Delivery was very quick and altogether a very trouble-free experience
Comfortable. Music sound best treated as ambient. Light bass.
I have had two pairs. Lost the first OpenMove, so got a second pair. They are comfortable and the battery seems to last a long time. Sound is bass light, but I tuned the equaliser on my phone to compensate. They can go loud for me. I think the second pair have a slightly less distorted sound compared to the first pair, plus they seem louder. Since it only has a single microphone, wind noise at more than moderate speeds make it hard for the caller to hear - though I keep my calls brief anyway. The controls are simple and work well, unlike touch controls on other brands. No accidental touches or no response due to wet fingers. Just a positive click.
Battery life if very good. I like the USB-C charging port as I have lot's of compatible cables and chargers. I am thinking of buying the OpenRun Pro, but wish it had a standard USB-C port, instead of the propriety magnetic port and cable connection.
Overall I treat the sound from the OpenMove as background music while I ride. Don't expect amazing deep bass sound, but be safe hearing your surroundings.
I got them on discount from a good supplier in the UK. Google search will reveal the deals.
Unbelievable
I've always had problems with not being able to hear my surroundings and having earphones fall out. This solves them both
FAQ
Q: Can I use OpenMove for phone calls?
A: Yes, the OpenMove has two Microphones on the right side, which can be used to answer and make phone calls.
Q: Does OpenMove fit for running and cycling?
A: Absolutely you can wear OpenMove for running and cycling.
Q: Can others hear my music when playing?
A: Don't worry about this, others cannot hear it unless they wears your OpenMove.
Q: What does EQ mean for OpenMove?
A: Equalization – or EQ – is one of the most well-known forms of audio processing in music playing. OpenMove offers 3 EQs for different surroundings: Standard mode, Vocal booster mode, Earplug mode.
You can press and hold the button of volume + and - for 3s when music playing to switch EQ.
Read More >
Manuals/guides
① This data was the result of a test that was conducted using OpenMove paired with iPhone 7 (version: ISO12.3.1).
Test conditions: Paired OpenMove with iPhone 7, adjusted to the standard EQ mode, played the white noise file with a 44.1kHz sampling rate and 24bit depth in wav format through the IOS music player, and set the volume to around 80% of the maximum volume.
Test content: OpenMove battery was fully discharged and then charged to 100%. The audio file was played until the headphones stopped playback. The duration time was counted as the continuous playback time of the headphones.
The test result showed that the OpenMove had a continuous playback time of up to 6 hours. In actual use, battery life depends on device settings, environment, usage, and many other factors.
②IPX5: This rating applies to items that are protected against ingress from jets of liquid.
Test conditions :
a) OpenMove was placed on a testing table.
b) A strong jet was used to project water in all directions of OpenMove.
c) The inner diameter of the jet was 6.3mm, and the water flow was 12.5L/min.
d) The distance between the jet and OpenMove was between 2.5m to 3m, and the duration time was 3 minutes.
After the test, OpenMove functioned normally.

IP5X: This rating applies to items that are protected against ingress from dust.
This was tested using a 1.0 mm access probe and by inspection to ensure any dust that enters would not interfere with the part's functionality.
1. Testing on access to hazardous parts: Used a metal wire of 1.0 mm to probe some hazardous parts such as gaps of the shell.
2. Testing on the entry of solid foreign objects:
a) OpenMove was placed in a dustproof box with talc powder floating in the box. The amount of talc powder was 2kg per cubic meter of the test box volume.

b) The talc powder was filtered through a metal square-hole sieve. The diameter of the metal wire was 50μm, and the mesh size was 75μm. The amount of talc used was 2kg per cubic meter of the test box volume and the material was used within 20 times.

c) The duration time was 8 hours.

After the test, there was no dust deposit inside the shell of OpenMove, and OpenMove functioned normally.
③Compared to the 6th generation, the 7th generation has higher waterproof standard and 50% less sound leakage.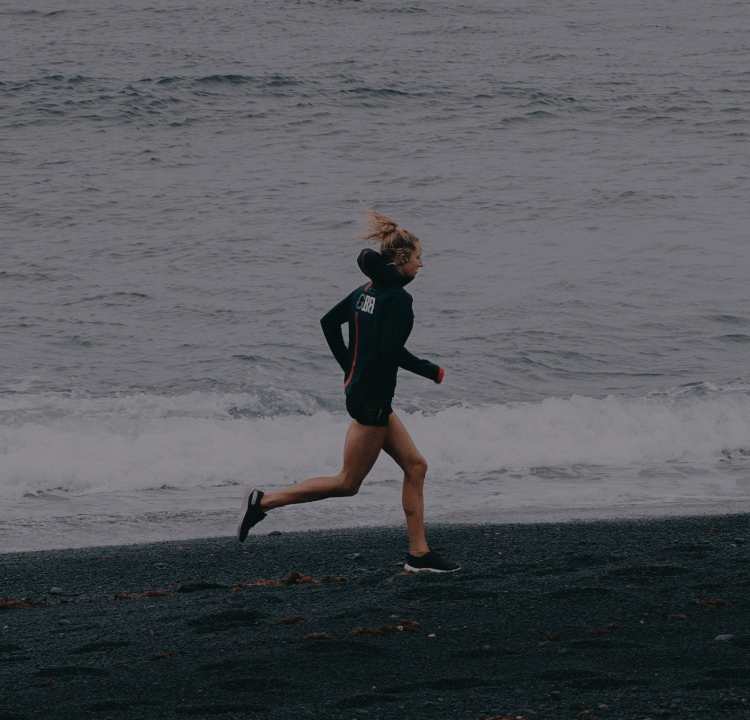 Let's Be Open!
With nothing inside or over your ears,
enjoy total awareness while you listen.